COVID Update – June 2022
Welcome!  
Thank you for reading the COVID-19 Update for Families. We thank our students, staff, and families for reading valuable information throughout the pandemic to keep you informed. This is the last edition of this publication. Further COVID-19 updates will appear as needed.  
In this update, families can read about:  
Keep up to date on the latest COVID-19 developments. Questions or comments? Please email info@hwdsb.on.ca 
Mental health supports – please see supports as the pandemic's challenges continue.
Kindergarten Registration – About Kindergarten and Online Registration.
Chair's Message
In a video message, Dawn Danko, Chair of the Board, shares her gratitude with families and provides an update from the Trustees as we complete the school year.
---
Director's Message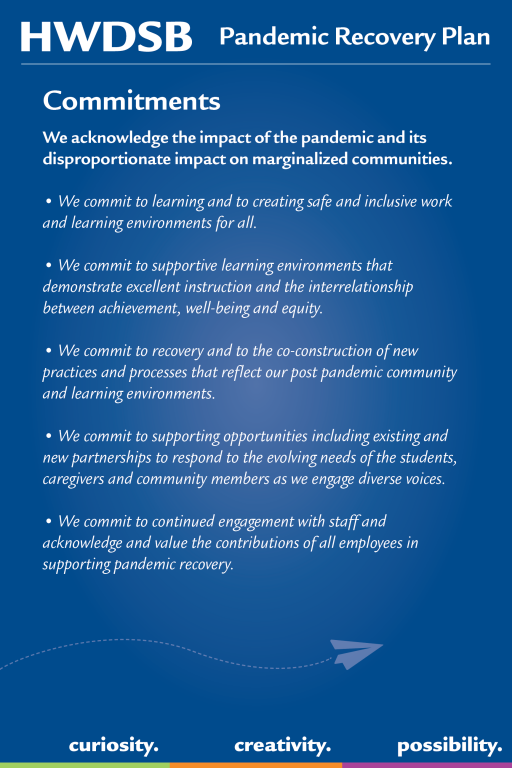 As we near the end of another school year, let me first thank our students, families, staff, and partners for your cooperation as we responded to the pandemic. In some ways, this year has been a more difficult year as we returned to more routine school operations while managing the lifted and continued COVID-19 restrictions.
At HWDSB, we are looking ahead to a pandemic recovery plan to help us prepare for the 2022-23 school year. We have outlined several commitments to be used in our decision making and is based on feedback from school leaders.
Throughout this pandemic, our priority is to keep students, families and staff informed. First published in January 2021, the COVID-19 Updates for Families publication became an effective tool to share our public health measures and details related to elementary, secondary, and remote learning programs.  
As we enter a phase of recovery and hope for a more typical school year experience, we feel that the COVID-19 Update for Families in this format has run its course. We hope that you have found this publication useful. We will continue to provide updates about public health measures as required.    
As Interim Director, it has been my pleasure to bridge the transition in leadership to our new Director of Education. We look to the Trustees decision in their Director search announced in the coming weeks.   
We also look forward to ending the school year in a positive way. Enjoy all the year-end events and celebrations. Please take the time to reflect on the accomplishments of our students.  
Have a safe and happy summer.    
Sue Dunlop
Interim Director of Education
---
Public Health Measures
Screening Tool
The provincial COVID-19 School and Child Care Screening Tool was updated May 18 to match guidance from the Ministry of Health. You must stay home if you have COVID-19 symptoms, or are waiting for test results after experiencing symptoms. Anyone who is sick or has any symptoms of illness, including those not listed in this screening tool, should stay home and seek assessment from their health care provider, if needed. 
Families, students, and staff are reminded to continue screening for COVID-19 symptoms each day before attending school or work. Screening results no longer need to be verified, but please stay home if you feel sick or fail the screening tool.  
Masks 
Students and staff continue to be strongly encouraged to wear masks in schools, administrative buildings, and on buses. Likewise, it is strongly recommended that all visitors wear a mask in schools and other HWDSB buildings. Medical masks will continue to be offered and provided on request when visitors check in at the school office. 
HWDSB also has PPE and Rapid Antigen Tests on hand to support students and staff for the remainder of the year, and for any summer programs. These materials are available upon request.  
COVID-19 Vaccines 
Everyone who is five years of age or older can receive a COVID-19 vaccine. Visit the City of Hamilton website to find up-to-date locations and hours of operation for clinics in your area. Please check your eligibility to receive a vaccine before visiting the clinic; you will be turned away at the clinic if you are not eligible. 
Voluntary Self-Reporting of Positive Cases   
Until the end of the school year, families can still notify their school of a positive student test result (PCR or RAT). Staff also have the option to self-report a positive test result. Schools continue to post to their websites, without disclosing the name or position of the case.   
We Help (Mental Health Supports)  
Social work services will provide individual support virtually or in person throughout July and August to support student mental health. An emphasis on transitional support will be provided to students moving from elementary to secondary school as well as students moving from remote to in-person learning. Support will also be available to parents, guardians, and caregivers with children entering Kindergarten with increased anxiety and worry.  
All services are listed on our We Help webpage and provided by registered mental health professionals. To learn more or register, please call (905) 527-5092 ext. 2308, email wehelp@hwdsb.on.ca, text 905-963-0066 (standard rates apply) or use the HWDSB Helps app for iOS and Android. 
---
Learning at HWDSB
Elementary and Secondary Commencements 
Commencements offer school communities the opportunity to celebrate each student's learning journey, achievement, and their transition to the next phase of their education and career. Staff proactively work to create equitable opportunities for participation of students and families, and to remove any barriers that may exist for commencement participation. 
Click here to learn more about commencement celebrations at HWDSB schools. 
HWDSB staff and schools are preparing for in-person commencements that will be inclusive and celebratory events for all. Schools have cautiously planned for events to begin next week, while taking local public health trends into consideration. Schools can also expect to receive commencement signs for Grade 8 and 12 students in the coming days. We encourage families to display these signs at their home to celebrate this milestone.  
Commencement celebrations have already been communicated by schools. If you require more details about your specific event, please contact the school.  
ELEMENTARY: All elementary devices are to be returned to home schools or the Education Centre on June 29 or June 30, including Remote Learning Program student devices and SEA devices. They can also be returned to the Education Centre throughout the summer. 
The devices should be labelled with the student's name, grade, and home school.  

 

Students who are registering for Remote learning in the 2022-23 school year will be issued a new device at the start of the school year. 

 
SECONDARY: All students need to return their devices to their home school after completing their final assignments. Students registered for Summer School may keep their devices. 
All iPads will be locked down for the summer, effective June 29 at 4 p.m. 
Summer Contact and Registration   
Throughout the summer, families can reach out to the HWDSB Education Centre at 905-527-5092 or email info@hwdsb.on.ca. Registration details at the elementary and secondary level include:  
Elementary school offices will be closed for the summer and will reopen on Monday, August 30. For elementary registration information, families can visit 

www.hwdsb.on.ca/register

 or email 

register@hwdsb.on.ca

 

 

Secondary school offices will remain open during the summer. Families can contact a secondary school using our 

online directory

 or secondary school 

email listing.

 
Secondary Student Success Days and Examinations   
Student Success Days are an opportunity for all students to complete tasks, assignments, performances, or other activities to demonstrate their achievement of overall learning expectations. For the current semester, Student Success Days will take place from Wednesday, June 22 to Monday, June 27, 2022. 
Some students may have final examinations that will occur around the time of Student Success Days. Classroom teachers will confirm any final exams. 
2022-23 Remote Learning (Elementary) and eLearning (Secondary) 
A remote learning option for the 2022-23 school year is a Ministry of Education requirement. 
There are approximately 110 students currently registered for 2022-23 Elementary Remote Learning, with only the English track being offered. Prior to the start of the school year, there will be another opportunity for families to indicate their interest for this virtual option. More information will be shared in August.  
eLearning continues to be the remote option for secondary students. Students should contact Student Services if they are interested in participating in eLearning for the 2022-23 school year. 
As part of the Ministry of Education's Learning Recovery Action Plan, HWDSB has received a significant financial investment for tutoring support programs in all schools.  
Free, comprehensive tutoring supports have been available to students in order to assist them in learning recovery. This tutoring has focused on literacy, numeracy and foundational skills.  
Students interested in receiving tutoring through this program have been able to access small group in-person tutoring or after-school tutoring. During the first phase of this initiative (April to June), programs have been offered in 47 elementary schools and nine secondary schools, with over 800 students benefiting from tutoring.  
For elementary students: Tutoring programs have taken place after school from April to June in schools where staff members are available. Subjects and focus areas included Phonics Academy (Kindergarten to Grade 1), Math Blasters (Grades 3 and 6), and Foundational Skills Support (Kindergarten to Grade 8).

 

For secondary students: Tutoring has been offered outside of the instructional day. Participating students have received up to three hours of tutoring per week, with meetings being conducted both in person and virtually.

 
The second phase of this initiative has allowed for an expansion of summer programming for elementary students. For secondary schools, funds have allowed students to continue working with tutors into July as they look to complete credits. Attendance and achievement data is currently being collected from tutoring that took place from April to June to help inform the third phase of this initiative in fall 2022. 
Staff are in the process of reviewing submissions from community organizations who wish to partner with HWDSB. We look forward to working with our partners who will help deliver tutoring support this summer and into the fall. 
Click here to learn more about this tutoring program. 
Summer Programming  
Thank you to everyone who has registered for some of the summer programming being offered in the coming months. Most deadlines have now passed, but there are still two opportunities open for registration: International Languages Elementary Program and Secondary Summer School. 
Updated on Tuesday, June 14, 2022.