COVID-19 Update – Late June 2021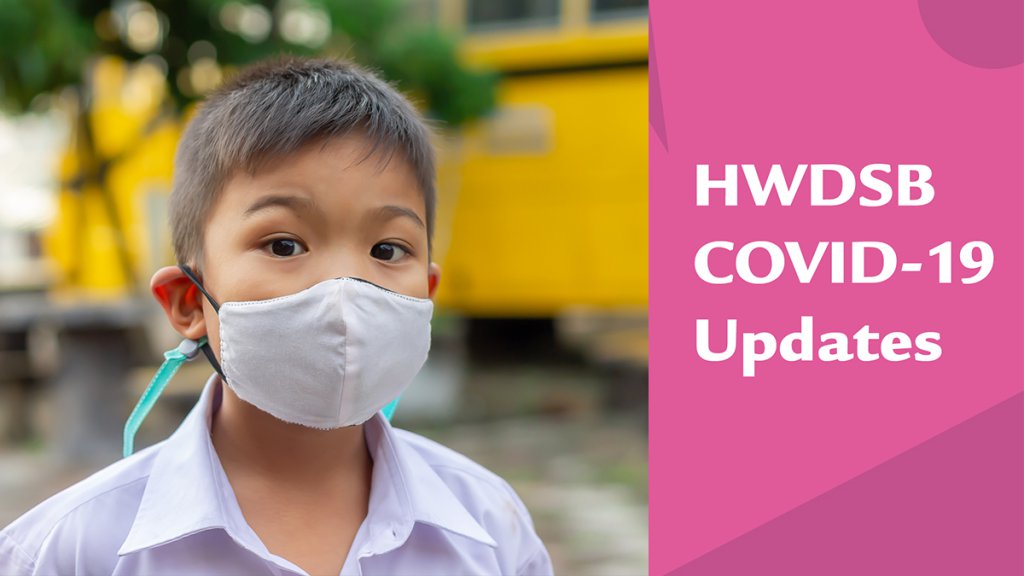 Welcome!
Thank you for reading our monthly COVID-19 updates to families. This is our last edition for this school year. We will resume our monthly updates before school starts in August. Direct communication with families will be limited during the break unless necessary. Enjoy your summer.  
In this update, families can read about:
Keep up-to-date on the latest COVID updates. Questions or comments? Please email info@hwdsb.on.ca​​
Chair's Message
When we look back on this year, we will remember the pandemic as significant moment in our history.
This pandemic has shown us the importance of community and of people coming together in new ways to share support.  Like all healthcare and frontline workers, our education workers have been important heroes in the COVID-19 response.     
We are grateful to our parents for being partners in education, especially during remote learning. We also thank and celebrate all students, especially those graduating this year, for showing resilience and perseverance in their academic pursuits during a challenging year. 
I've shared a personal message with our HWDSB family as we close this year. Please watch below.  
The Ministry of Education will soon release their Back-to-School Guidance. This guidance for the 2021-22 school year will include health and safety measures, which will include guidance on requirements such as screening, masking, hand hygiene, as well as cohorting for clubs and other extracurriculars.
We will also learn if we will reopen fully in person, or in an adaptive model for secondary schools where students may attend every other day as they did this year.
We'd like to remind families that mental health and well-being supports are available over the summer months. Please see our website for details.
While we will limit our direct communications with families this summer to only urgent updates, we do hope that you will stay connected.
Have a safe and wonderful summer.   
Dawn Danko
Chair of the Board
---
Director's Message
As we complete a challenging school year, we look forward with anticipation to a full return in 2021-22 to in-person teaching, learning, and relationship building.
To help our system plan, we have posted the approved 2021-22 school year calendars.
You will notice that for elementary schools, the calendars include the full-year calendar and the five-day schedule typical in elementary schools. For secondary schools, we have included details on the quadmester model that we will use in 2021-22. The secondary model could return to a semester model for semester two based on Ministry of Education and Ministry of Health monitoring and direction.
We hope that sharing these calendars now will help families plan, and will help our community understand the quadmester model before school begins in September.
The first day of school for students is Wednesday, September 8, 2021. This date was moved to recognize the Jewish holiday Rosh Hashanah, from September 6 to 8. Although school will occur on September 8, we will be working to accommodate students, families and staff celebrating.
Well-being supports for students over the summer months
Students may be finishing their school years at HWDSB, but we want them to know that our supports will continue. We know that it can be hard when the structure of school – even in remote learning – is removed for children and youth. Please see below for more details on the well-being supports available this summer for students, and their families.
Congratulations, graduates!
This year, I want to give a special congratulations to HWDSB's graduates in the Class of 2021. It is so encouraging to see our HWDSB staff offering the best events to mark this milestone, which you worked so hard to achieve.
I hope that you are proud of what you've accomplished and have dreams and goals for your future that will excite and challenge you. You will likely remember your high school graduation forever, because it was marked by the COVID-19 pandemic.
As we celebrate the end of a school year like no other, I hope that all our students, families, staff and community members know how much we appreciate their understanding and patience. We are grateful for your patience as we cope with a difficult school year.
Please my video message for graduates below.
Manny Figueiredo
Director of Education
---
Public Health Measures
Youth vaccination
As you are likely aware, Hamilton Public Health continues to support Ontario's vaccination program by encouraging vaccination for those aged 12 and older.
Details on eligibility and clinics change quickly. We recommend that all HWDSB families refer to the City of Hamilton Youth Vaccination web page for local information.  
The City of Hamilton has produced a series of videos explaining how to book a vaccine with various types of identification.
Changes to screening tool
It is important that all families are aware that the provincial screening tool changes periodically. You can find the most up-to-date versions of the COVID-19 school and child care screening online. For downloadable versions, please also see this site, or the links below:  
Reporting COVID-19 cases in the summer
We are awaiting additional information from the Ministry regarding reporting and communication of COVID-19 cases over the summer months. We expect that there will be limited school-wide messages sent by School Messenger, as we continue to help inform close contacts on behalf of Public Health. We expect childcare cases of COVID-19, will be communicated through the childcare provider. These details will be confirmed as soon as possible. 
Supports for students
At this challenging time, we want to remind students and families that mental health and well-being supports are available this summer for individuals, groups and in workshops. 
All are free of cost, and are listed on our website. You will notice that supports exist in areas such as mental health, anxiety or low mood, school avoidance and non-attendance, stress, systemic oppression and more.  
All services are provided by registered mental health professionals. Services may be provided in person and/or virtually, via MS Teams depending on Public Health requirements. 
To learn more or register, please call (905) 527-5092 ext. 2308, email wehelp@hwdsb.on.ca, text 905-963-0066 (standard rates apply) or use the HWDSB Helps app for iOS and Android. To stay up to date on mental health and well-being programs this summer, subscribe to our mailing list by emailing wehelp@hwdsb.on.ca with the subject line: MH mailing list. 
---
Learning at HWDSB
Elementary report cards are being sent out to parents, guardians and caregivers on Monday, June 28 and not Thursday, June 24 as previously announced. Report cards will be delivered as secure documents using PowerSchool. 
The emailed report card is an unofficial document because it is not signed. A printed, signed copy of the report card can be made upon request. If you need a paper copy of the report card, please contact your school in the fall. Home schools will receive a copy of all report cards for students in the remote learning program. 
Secondary report cards 
A similar digital process to deliver secondary report cards will be initiated for students and parents after June 30.
Summer contact and registration  
Throughout the summer, families can reach out to the HWDSB Education Centre at 905-527-5092 or email info@hwdsb.on.ca. Registration details at the elementary and secondary level include:  
Elementary school offices will be closed for the summer and will reopen on Monday, August 30. For elementary registration information, 

families can visit 

www.hwdsb.on.ca/register

 or email 

register@hwdsb.on.ca

 

Secondary school offices will remain open during the summer. Families can contact a secondary school using our 

online directory

 or secondary school 

email listing.

  

 
Asynchronous learning 
For elementary students learning remotely, which includes nearly all HWDSB students, the final day of synchronous learning will be on Friday, June 25. 
Students will engage in asynchronous learning on June 28 and 29, using activities developed by Program staff that will not require access to technology. 
Families can expect to receive details of these activities on June 25, by email if possible or in physical copies if required.  
Kindergarten  
We want to thank incoming families for their patience while we clarified our direction on the start of Kindergarten in 2021-22. 
As in past years, HWDSB will have a standardized timeline for the start of Kindergarten in 2021-22, to ensure a consistent experience in our schools. The start dates will include:   
Wednesday, September 8, 2021

: All children new to Kindergarten and/or the school are invited in for a short visit with a caregiver. Visits will follow the Public Health protocols at the time of school entry (e.g., may need to be 1:1 or may accommodate small groups).

 

Thursday, September 9, 2021

: All children new to Kindergarten begin full-day attendance. All children entering Year 2 of Kindergarten begin full-day attendance.

 
We want all children to be comfortable and supported in their transition to school. We know that some children will need a more personalized experience. Staff are prepared to offer this support. Please speak with your principal. 
Schools will send registered Kindergarten families an email this summer, to inform them of their child's start date in Year 1 or 2 of our Kindergarten program. 
Secondary learning model
The Ministry of Education encourages all school boards across Ontario to deliver secondary programming in the Quadmester learning model for at least the first semester of the 2021-22 school year. Public Health has stated that the Quadmester model is the preferred learning model to support contract tracing and reduce the number of students or staff who might require to self-isolate due to a positive COVID-19 case.  
The Quadmester is a change from the Rotational Model currently offered at HWDSB. It divides the school year into four quarters or sections, with each quarter or section offering two face-to-face classes. This allows for more in-person learning with two classes at 150 minutes of instructional time for a total of 300 minutes of in-person learning every day. This means students will take 2 courses at a time, rather than 4 courses. This model will apply to both, face-to-face classes and e-learning classes.  
Device return and personal belongings pick up 
Elementary:  
All elementary devices are to be returned to home schools during June 28 and 29, including Remote Learning Program student devices. Students may also retrieve any personal items left at the school at this time. 

 

Schools will reach out to families by School Messenger with the date/time for families. The devices should be labelled with the student's name. 

 

Elementary students enrolled in summer learning programs may hold onto their devices until the end of their summer program. 

 

Students who are registering for Remote learning in the 2021-22 school year will be issued a new device at the start of the school year.

 
Secondary:  
All graduating students and students leaving the Board need to return their devices to their home school after completing their final assignments.

 
Specialized Services  
The last day for in-person learning for students requiring supports is June 28 for secondary and June 29 for elementary. 
Remote Learning 2021-22 Update  
HWDSB is offering remote learning for elementary students (Kindergarten to Grade 8) in 2021-22 as an option for families concerned about the COVID-19 pandemic as directed by the Ministry of Education. Parents, guardians and caregivers who indicated they would like their child/ren to attend remote learning will be notified during the week of July 5.  
Elementary Transition, Fall 2021  
HWDSB will provide an opportunity for families to transition between remote and in-person learning. Families who want a change for their child/ren between learning models can make their choice through the Parent Portal starting Friday, September 3. The survey will close one week later, Friday, September 10. Students will start in their new placement in early October. We will share more information about the survey and the transition at the start of the school year. 
Updated on Wednesday, June 23, 2021.