Continuity of Learning During an Absence
Continuity of Learning during an Absence 
This is what students and families can expect upon completion of the COVID-19 School and Child Care Screening and when the screening results read: "Do not go to school/child care."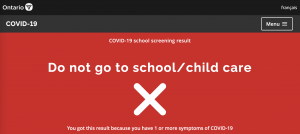 When the screening tool advises "Do not go to school/child care" it will tell you if your child and household members need to isolate or if they would be able to return earlier based on symptoms. 
Decision Guides from Hamilton Public Health Services  
To help clarity when a student can return to in person school or child care, Hamilton Public Health Services has produced two important decision guides to help families understand what happens: 
Input your absence into SafeArrivals 
HWDSB schools use the SafeArrival tool to make it easy for families to report current and upcoming student absences, rather than sending notes or contacting the school. 
You can report an absence using a web browser, the School Messenger app, or by phone. 
Note that we have added "COVID-19 Related" to the list of reasons for a student absence. 
Please complete a SafeArrival entry for each child in your household who has an explained absence.  
Learning at home during absence 
While isolating, we want your child/ren's learning to continue, if they feel well enough to do so. Your child's classroom educator will contact the primary caregiver and support learning if your child will be absent for more than one day. 
Well-being Supports  
For mental health and well-being supports, please contact your school or explore the resources at www.hwdsb.on.ca/mentalhealth 
Contact your child's school
As always, please contact your child/ren's school if you require any assistance.
Updated on Friday, January 14, 2022.