Bernie Custis Partners with Hamilton Tiger-Cats for Future Business Leaders Seminar
The Hamilton Tiger-Cats managed to find a way to be a helpful neighbour to Bernie Custis Secondary School, even while both facilities remain closed. On June 10, 2021, the Hamilton-Wentworth District School Board school partnered with the Canadian Football League team for a virtual Future Business Leaders seminar.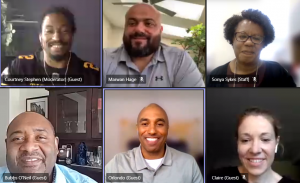 The Future Business Leaders program is a mentorship experience for high school students that brings a curated group of three to five sports industry professionals together for a panel discussion, focussing on diversity and inclusion in sports. In the sports industry, visual minorities and females are alarmingly underrepresented among those in senior positions. As allies and advocates for racial equity and inclusiveness, the Tiger-Cats aim is to inspire a more diverse generation of business leaders by introducing youth to successful professionals who are breaking stereotypes and opening doors.
"The partnership with the Ti-Cats is beneficial to our students because it is the start of community partnership our students need," said Sonya Sykes, Principal at Bernie Custis. "They were presented with five potential mentors they can connect with. Most importantly, these potential mentors reflected the diverse backgrounds that represent our Bernie Custis community."
Participants in the seminar included:
Courtney Stephen, Defensive Back, Hamilton Tiger-Cats (Moderator)

Orlondo Steinauer – Head Coach, Hamilton Tiger-Cats

Marwan Hage – Former Offensive Lineman, Hamilton Tiger-Cats, Entrepreneur

Claire Toffelmire – Athletic Therapist, Hamilton Tiger-Cats

Bubba O'Neill – CHCH Sports Anchor
Prior to the Future Business Leaders session, students submitted questions that they hoped to have answered during the discussion. Panelists shared stories about what a day in the life of each of these professions looks like, the importance of role models, and the challenges they faced as they established themselves in their industries. Students can now take these lessons with them through the remainder of their secondary school experiences and into their post-secondary endeavours.
"Our hope is that students will begin to reflect and expand their thinking on the power of mentorship and of pursuing their passions," Sykes told us. "Coach O phrased it well when he stated, 'a job is title, but the passion will be the centre.'"
Thank you to the Hamilton-Tiger Cats for bringing this valuable learning opportunity to our students! We hope the Future Business Leaders program is able to grow and inspire even more young HWDSB minds down the road.
Updated on Friday, June 11, 2021.