An Open Letter from HWDSB Chair Alex Johnstone and Director Manny Figueiredo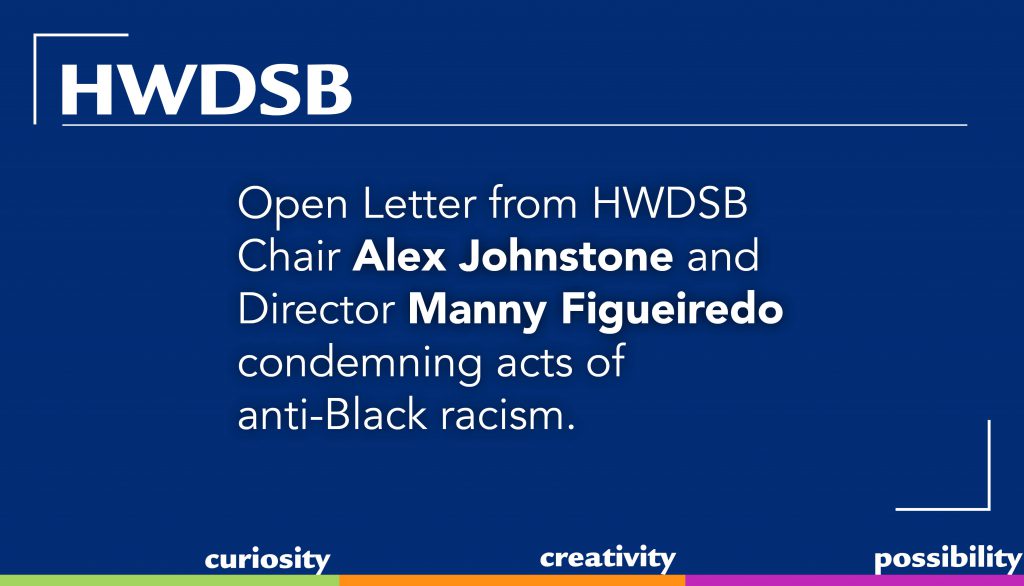 We are outraged by the acts of anti-Black racism and violence that led to the recent deaths of members of the Black community in the United States and Canada. The deaths of George Floyd and Regis Korchinski-Paquet remind us again of the ongoing, systemic injustice, inequality and violence that target Black communities. We recognize that anti-Black racism impacts the daily lives of our students, staff and families in ways that are unjust and prevalent.
The events that we see in the media are not random and isolated. They are the poisonous inheritance of anti-Black racism in history, which has been known and felt by the Black community for far too long. We believe that, as education leaders, making a statement is necessary but inadequate. Although we have done some important equity work in HWDSB, we recognize that we have a lot more work to do to fight racism in our education system. We cannot be bystanders to racism; we must work against it. Anti-Black racism is a threat that erodes the dignity of all people. It requires a commitment to act. As a result, staff have committed by the end of this month to provide an update on our Equity Action Plan as it relates to anti-Black racism and the key next steps we must take for the sake of our students.
At Hamilton-Wentworth District School Board, we know that anti-Black racism exists in our community and in our schools. Black students and communities have shared their experiences in our schools. Their voices reinforce the need for greater action and concrete efforts to support their lived experiences. We will support our educators and staff to make places of learning safe for Black students, staff and families. We will share further resources and supports for students and educators in the days ahead.
It is our ethical and moral responsibility to work against anti-Black racism. Statements of belief and commitment are not enough, when the well-being of our students and community demands action. We know we need to centre the voices of Black students, staff and families to make progress. We will continue to be accountable to them as we make the necessary changes.
Updated on Friday, September 24, 2021.