Featured Athlete of the Week – Samuel Cooper – HDCH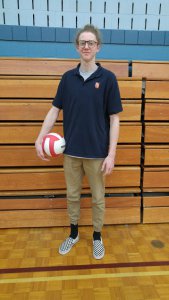 The volleyball program at HDCH has been privileged to have Samuel Cooper as an athlete since he joined us in grade 9.  In grade 10, Samuel decided to try out for the senior team, and there was no question that he belonged there.  Not only did he belong, but he became the most intimidating hitter on our team. This past fall, in his grade 11 year, Samuel continued to be an intimidating hitter.  Since he can go through the block, around the block, or over the block, other teams find it hard to stop his attack. When we needed a kill, Samuel was the one we counted on.  This past year, Samuel also proved to be a dominant server and great passer. Trying to serve to him was not a good way of keeping our team out of system. This past year, Samuel was a big part of our senior boys volleyball team experiencing much success and winning a bronze medal at OFSAA.  Along with his ability, Samuel shows great sportsmanship when he plays; he shows honour and respect for his teammates, opponents, coaches and referees. Outside of our team, Samuel shows a commitment to, and a love for, the game of volleyball. He loves to learn the game, watch the game, play the game and train his body to become better at it.  He will often talk about how he admires the abilities of high level volleyball players that he watches. It is a joy to watch Samuel play and compete for HDCH Athletics, and we look forward to his contributions in the future!
Updated on Friday, April 06, 2018.