Meet Hamilton's Rio Team
Courtesy of Steve Milton, Hamilton Spectator
Heather Bansley
Beach volleyball
Born: Sept. 13, 1987
School: Waterdown District, University of Toronto
Bansley was a five-time Ontario university all-star, two-time all-Canadian and Ontario player of the year and also led the nation in kills and aces and points-per-set when she played for the Varsity Blues.
At the suggestion of her coach Kristine Drackich,  Bansley began  evolving into a beach volleyball player in the summer of 2007, three years before she graduated from U of T. She started competing fulltime on the elite FIVB Beach Volleyball World Tour in 2010 and, partnering with Liz Maloney, won two of the three matches over Mexico to land Canada a women's-team berth for the London 2012 Olympics. But she and Maloney were forced to play a one-match winner-take-berth event, which they lost to Quebec's Annie Martin and Marie-Andree Lessard.
That, according to her Olympic team bio, left her determined to never leave qualifying to chance again.
Bansley teamed with Sarah Pavan, from Kitchener, following Maloney's retirement due to a knee injury in 2013. Despite their short time together, they are now Canada's top team and stand fifth overall in Olympic rankings. They enjoyed a superb 2015 season, with their first World Tour podium finish (second) at Prague and became the first Canadian women's team to win an FIVB Major Series medal with a silver in Porec, Croatia. Bansley completed the season as the top scorer in Major Series events and she and Pavan finished fifth at the world championship, the best-ever by a Canadian pair. This season Bansley and Pavan have won a bronze at the Moscow Grand Slam and silver again at Porec.
Canada has qualified the maximum two women's and two men's teams, for the first time since the ultra-popular sport debuted at the 1996 Olympic Games in Atlanta. Bansley and Pavan are considered medal contenders.
"When we are playing to our potential, we are up there with the best teams in the world," Bansley told CBC.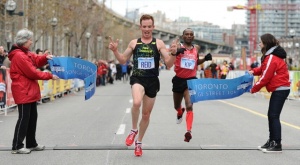 Reid Coolsaet
Marathon
Born: July 29, 1979
School: Westdale Secondary, University of Guelph
Last fall, Reid Coolsaet ran the fastest marathon by a Canadian in 40 years to cap a 2015 season that "was the best year ever for me." He had already reached the qualifying standard for the Rio Olympics a few months earlier at a marathon in Rotterdam and turned in a time of two hours, 10 minutes and 28 seconds at the Berlin Marathon, in September 2015. That's just 19 seconds off the oldest record in Canadian athletics, which Jerome Drayton sat at the Fukuoka Marathon in Japan in late 1975.
This past winter, however, Coolsaet suffered a nerve impingement in his lower spine which tightened his hamstrings and gluteus maximus and at one point he felt the injury might threaten his trip to Rio. But Coolsaet demonstrated Olympic-level fitness in winning the Ottawa 10K (which also gave him the Canadian championship) and finishing second to friend and training partner Eric Gillis at the Toronto Waterfront 10K so he will be on the starting line on the final day of the Rio Games, his second Olympics. He was 27th in 2012 on a very muggy day in London.
Coolsaet got married in June and he and his wife Marie moved into their house in Hamilton in July. He says that if his recovery from Rio goes well he might be able to run a late fall marathon to try to break Drayton's record.
He feels going to a second Olympics will help him in dealing with outside factors such as the extra media attention, "I think the second time around I kind of know what to expect," he says. "At my first Olympics I felt pretty normal, though. I hadn't been to an Olympics before but I'd been to world championships and the field was the same. As far as the starting line goes, it didn't feel different."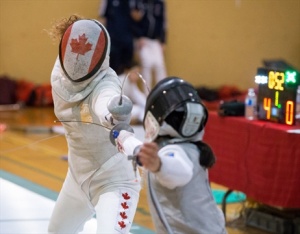 Eleanor Harvey
Fencing, individual foil
Born: Jan. 14, 1995
School: Westdale Secondary; Ohio State
Although she is one of the younger members of Canada's Olympic team, Harvey is loaded with experience at the world level. She won silver medals in foil at both the 2014 and 2015 world championships. She has fenced at two Pan Am Games and was seventh in individual foil at last summer's Games in Toronto while contributing immensely to Canada's upset of the favoured U.S. for the team gold medal by winning the last match in overtime.
In March, Harvey, now heading into her senior year at Ohio State University, won the NCAA (U.S. college) championships with 21 victories in 23 round-robin matches and dominant performances in the medal rounds. She had been ninth last year.
An all-round athlete, she was a sprinter when she was younger and then switched to karate before concentrating on fencing, which she started at the age of 10.
Harvey had originally set her sights on the 2020 Olympics, when she would have an extra four years experience. But when her 2015-16 season got off to a good start she told herself, "All right, I'm going to go for it."
"The Olympics have always been my goal," she says. "All my life."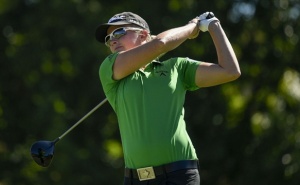 Alena Sharp
Golf
Born: March 7, 1981
School: Westdale Secondary; New Mexico State
Golf makes its return to the Olympics for the first time since Canadian George S. Lyon won the men's event at St. Louis in 1904. But women's golf has been absent since 1900 when Americans swept the podium the only time it's been an Olympic event for women. No Canadian team was in the 1900 event, so Sharp and Smith Falls' Brooke Henderson comprise the first Canadian women's golf team.
Sharp says that playing on the LPGA tour with the 18-year-old Henderson has "brought out the fearless kid in me" and she's had two of her best seasons in 2015 and '16. Three of her seven top-10 finishes on the top women's pro tour have come in the past season and a half. Sharp, who tries to wear patriotic red and white in her final round, is a three-time Canadian women's PGA champion.
Canadian golf coaches are among the few who have already been to Rio to scout and map the new course that will be used for the Olympics, which should give Canada an advantage in the early going. Sharp also hits long off the tee, a favourable asset for the Olympic course, and has been practising regularly in the wind because the course is windswept.
"It's a huge honour to represent Canada and to go down there and really represent women in the sport of golf," she says. "And hopefully we can spur on more girls to play."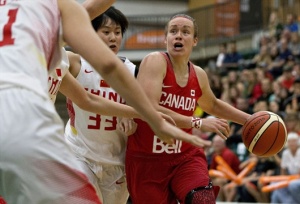 Shona Thorburn
Basketball, guard
Born: Aug 7, 1982
School: Westdale Secondary; University of Utah
The senior member of the women's national team, Thorburn was born in England but moved to Canada with her family when she was 11. By the time she was 16 she was playing for the country at the 1998 World Youth Games. In 2002 she made the senior national team, and played in the 2003 Pan Am Games.
She starred at Utah, starting every game in her four varsity seasons, and led the team to the Elite Eight in her senior year when she was drafted seventh overall by the WNBA Minnesota Lynx. She spent parts of two seasons in the WNBA with the Lynx and Seattle Storm, then went to Europe in 2007 to play pro basketball, first in Spain and then in France, where she is still playing for Nantes Rez.
Thorburn was absent from the national team program for a number of years before returning in 2011 for the FIBA Americas tournament, in which Canada won bronze. At the next FIBA Americas, in 2013, she helped Canada to a silver medal and last year the team won gold, qualifying for Rio much earlier than it did for London, where Canada had to win a berth at a last-chance qualifier only a month before the Games. She led Canada in assists in three of the five games as Canada reached the quarter-finals. She broke her leg at last year's FIBA Americas tournament and had surgery in late August but is back playing strong, intelligent basketball.
"It's been very different in the regard that we're getting attention this year," Thorburn says of the 2012 and 2016 Olympic teams. "It's great. It's more of a ride this time around."
Updated on Thursday, August 04, 2016.