Congratulatory Message from Principal Woof
Please click here for Ms. Woof's congratulatory message to the Class of 2021!
---
Valedictory Address
Please click here for a very special message from the Class of 2021 Co-Valedictorians Jocelyn Mattka and Leanne Tran!
---
Class of 2021 Graduation Celebration!
Monday, June 28 from 2:00 p.m. to 7:00 p.m.
---
The wait is over! HWDSB has been given permission by the province and public health unit to move forward with a socially-distanced, in-person, drive-through graduation in all our secondary schools! Ancaster High School is pleased to announce that we are hosting an event on site on Monday, June 28 from 2 p.m. – 7 p.m. (15 minute drive-through timeslots)!
All current grade 12 students are welcome to attend this event, regardless of status as an official graduate
Year 5 students who haven't yet graduated and may or may not be graduating this June are welcome too
Families are required to book an appointment to come to the celebration. Immediate family/household members are welcome.
All Public Health protocols must be followed (COVID screening, sanitizing, masks, social distancing).
There will be no access to the school for any of the attendees (no access to washrooms)
Students will need their 5 or 6-digit student number in order to book an appointment. This number can be found on a report card, status sheet, or student I.D. card
---
Instructions to Book a Timeslot for Your Drive-Through
1. Go to the scheduling website at https://ancaster-grad.parentinterview.com
2. Enter your 5 or 6-digit HWDSB student number and click "Sign In"
3. Fill in your contact information and click "Continue to Make Appointments"
4. Click on "Graduation Appointments"
5. Click on an Available time at which you wish to attend the school
6. Click on "My Schedule" (top left of the page)
7. Print out, email or copy down your appointment time
If you have questions or need help booking an appointment please email the school ancasterhigh@hwdsb.on.ca
---
Where do I go on the day of the Celebration?
Please consult this map for the drive-through route.
Please arrive at your scheduled time.
Enter the entrance off  Meadowbrook Drive.
You will first check in with a staff member to confirm that you (and guests) have completed the COVID screening.
An area will be designated for material drop off that you no longer require for the remainder of the school year (iPads, textbooks, library books, etc.).
You will then proceed to the pick-up area. You will receive:

a cap
tassel
gown
v-stole
envelope containing some information

You will also receive a lawn sign if you haven't already received one.
Bring your camera and/or phone as there will be designated locations for photos. Masks may be removed while having your photo taken.
---
Want a Grad Sign Earlier than June 28?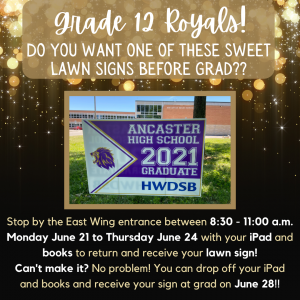 ---
Grad Rings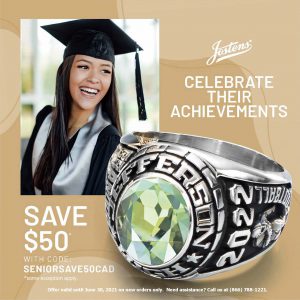 Click here for information on grad rings.
Updated on Monday, June 28, 2021.