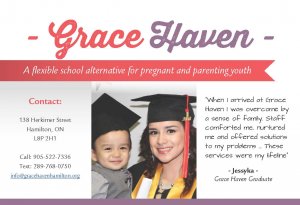 Are you pregnant or parenting?
Are you 21 or younger?
Need to complete your High School Diploma?
Need child care?
We are here to help!
Grace Haven offers young pregnant and parenting moms looking for a flexible school alternative help them earn their Ontario Secondary School Diploma with the support of the Salvation Army staff.
School Support
Our school program offers:
Three HWDSB teachers to provide students with a range of course options including:

English, Math, History, Geography and a variety of other compulsory and elective courses

The OSSLT and literacy course
Guidance through the Prior Learning Assessment and Recognition process
Support with co-op transition
Application support to Post Secondary Schools.
Parenting Support
The Salvation Army offers:
Free Child Care for your baby while you attend our school program
Lunch and snack provided
Prenatal classes instructed by a Public Health Nurse
Ontario Early Years Centre
Workshops on bonding with your child, provided by Hamilton Health Sciences
Addictions counseling and support
Chaplaincy services
Residential services
Links to a variety of programs, supports and community services
At Grace Haven, we are proud of our annual June graduation celebration in which we honour all of our students' accomplishments, as well as our graduates.
Our students:
Can earn multiple scholarships and bursaries
Celebrate everyone's achievements, no matter how big or small
Receive medals and awards for various accomplishments, even for those not graduating
Celebrate with family and friends, who are encouraged to attend and participate
Have their babies honoured at our graduation
Have their art, as well as the art their children created, showcased
Are always excited to watch the slideshow we create of the pictures of their babies, and classroom activities.
Articles:
Updated on Monday, May 28, 2018.