HWDSB COVID-19 Updates – March 2021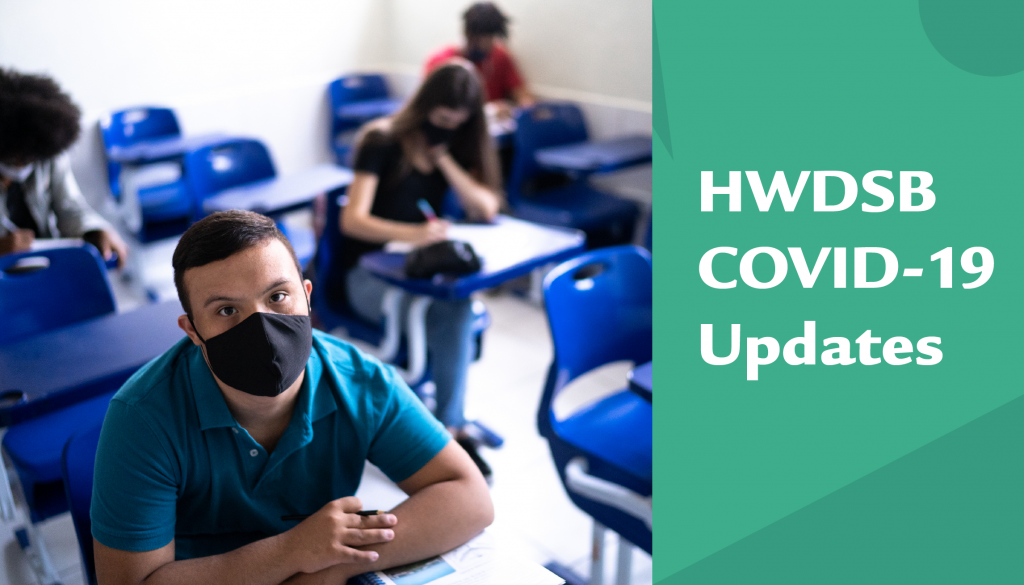 This month marked one year from the day that the World Health Organization first declared COVID-19 a pandemic. We commemorated the National Day of Observance for COVID-19 on March 11 to honour lives lost and changed from the pandemic.
During this month's update, families can read about:
Keep up-to-date on the latest COVID updates, now in our new format. Tell us what you think by emailing info@hwdsb.on.ca​​
Chair's Message
As of Monday, March 29, the City of Hamilton entered into the "Lockdown" – Grey category within the Provincial COVID-19 Framework. As the City reports, the objective of the "Lockdown" – Grey category is to implement wide-scale measures and restrictions, including closures, to halt or interrupt the transmission of COVID-19.
Keeping in-person learning available during this time is a priority. We must look at every public health measure available to keep our students and staff as safe as possible.
That's why the trustees are advocating that front-line education workers be a priority in the Ontario vaccination plan.
Trustees have committed to advocate, once again, to the Premier, Minister of Education and Minister of Health to prioritize education workers in the vaccine rollout to keep the health and safety of our students and staff as our top priority and to keep schools open. Read the letter, here.
Today, I was interviewed by host Bill Kelly on AM900 CHML about perspectives on the status of education at this stage of the pandemic, and the possible impacts of changing the spring break. You can listen to this radio interview.  Please note, as of March 30, 2021, the Minister of Education has reaffirmed that the spring break will proceed from April 12 – 16.
We know there is anxiety with more uncertainty for families and staff as we continue down this road this year. We want to provide timely information with you as we start to think about the next school year. A revised operational guidance document for September start-up will be shared in April by the Ministry of Education.
Also in April, trustees will be moving through the budget development process. We have been told that we should plan a budget without COVID-19 contingency funding. We look forward to the Grants for Student Needs and Partnership Priority Funding announced by the Minister of Education in the next month.
Thank you to all of our staff for working so hard during this challenging time, for giving our students the best experience possible, and for keeping one another safe. Thank you also to students and families for your resilience and flexibility during this time has been appreciated.
Dawn Danko
Chair of the Board
---
Director's Message
As we move through the rest of the school year, we want to offer as much stability to families as we can as we navigate this continued crisis. Our focus in education remains on safety, well-being and achievement; healthcare remains focused on vaccines, public health measures, and protection.   
It is unclear if the Ministry of Education will announce a provincial order to move students and staff from in-person to remote learning. We will communicate with families if there is a change in how our students will learn. We advise parents/guardians to remind your child(ren) to bring home personal belongings before this coming weekend in the event we are in remote learning. The break is still scheduled for April 12-16, unless we hear otherwise from the Ministry.  
Like other Ontario school boards, HWDSB has been experiencing staffing challenges. Dr. Davey Elementary School recently transitioned from in-person to remote learning for a two-week period. A reduction in staffing levels, as a result of staff being identified as a close contact by public health, may impact schools staying open. A full school team of course promotes safety and supports student programming.   
A shift from in-person to remote is a challenge for working parents, but I share this with you to prepare for this possibility. Our position has always been that we want our students learning in schools if it is safe to do so and with enhanced public health measures.  
This spring, we have prioritized strategies from our Board Annual Plan that will make a difference for students. Families will learn more about Safe Schools Action Plan, the We All Count: Student Census, and Learn Disrupt Rebuild @HWDSB.    
This is a sacred and special week for many families celebrating different faiths. Once again, many of us will not be seeing some family members in-person due to public health restrictions, but we are hopeful this sacrifice will benefit our loved ones in the long run. Be well.
Manny Figueiredo
Director of Education
---
Public Health Measures
COVID-19 is present in our community and we all have a role in minimizing the potential impact in schools. Be sure to follow public health measures:
Daily Screening before arriving at school – If you are unwell, stay home
Practice effective hand hygiene throughout the day
Physically distance from others by 2 metres
Practice effective respiratory etiquette
Effective use of PPE by staff
HWDSB, in partnership with Hamilton Public Health Services, support voluntary testing of asymptomatic students and staff in Hamilton. Asymptomatic testing will make it easier to track and prevent the spread of COVID-19 in schools. It may also inform public health decisions and help to manage outbreaks.
In some situations, additional testing will be offered outside of the scheduled asymptomatic testing clinics. Hamilton Public Health Services (HPHS) helps us determine when additional testing would be beneficial including whether it is necessary during an outbreak. Upcoming clinics for the following schools and their feeder schools include:
April 7 at Bernie Custis (11:30 am – 7:00 p.m.)
April 7 at Westdale (11:15 a.m. – 7:00 p.m.)
Learn more about Asymptomatic Testing Clinics in HWDSB.
Return to School Attestation – after illness or self-isolation
Following illness or self-isolation, parents and guardians are asked to complete an attestation for return to school/child care. Parents and families must complete the form to document that it is safe for your child to return to child care or school (elementary and secondary). Click here, Attestation for return to school or child care.
The document has been translation into the following languages:
Arabic, Farsi, French, Karen, Korean, Kurdish, Simplified Chinese, Somali, Spanish, Swahili, Urdu, and Vietnamese
Symptomatic Household Contacts
For clarity, we wish to share the following:
If your child is a close contact, your child needs to self-isolate for 14 days from their last exposure to the person who tested positive. They should be tested for COVID-19 as soon as possible, whether they have symptoms or not. You and anyone living in the home are asked to stay home except for essential reasons while your child is self-isolating. Essential reasons include: going to work or school, getting groceries, and attending medical appointments.
If your child becomes ill, they should get tested for COVID-19. All household members must also quarantine at home until your child's COVID-19 test result comes back.  Hamilton Public Health Services (HPHS) will contact you to provide further direction.
Contact Tracing Packages 
On Friday, March 19, Hamilton Public Health Services began a new communication process for students deemed as a close contact. Rather than a phone call, families with receive a contract tracing package from public health through your child's school. This timely package provides detailed instructions for close contact students. The package also includes isolation and return to school dates, advice for family members and for testing public health.
Staff Risk Assessments 
There has been some misinformation shared on social media about the process for staff to return to work after isolation. Staff stay home until public health can determine if they are close contacts required to continue isolation or can safely return to school. They consider Personal Protective Equipment, physical distancing and other factors. Staff can be cleared before the class returns.
Collaboration with Hamilton Public Health Services 
The safety of all is a priority – this is our shared goal between HWDSB and Hamilton Public Health Services. We thank HPHS for their continued collaboration and support to families and staff as we to ensure all provincial health directions are followed when an individual within a school tests positive.
---
Learning at HWDSB
Secondary Learning
Rotational Model  
Rotation #3 is set to begin on April 20, 2021 and will last until May, 19, 2021. This is the third out of four rotations for Semester 2.  
Online OSSLT Test  
HWDSB has decided that it will not take part in the online version of the Ontario Secondary School Literacy Test (OSSLT). The test is being administered by the Education Quality and Accountability Office (EQAO) and participation is not mandatory. 
For the 2020-21 school year, the Ministry of Education revised the 40-hour community involvement graduation requirement so that students will not be adversely impacted by COVID-19. For students graduating in the 2020-21 school year, the requirement has been reduced to a minimum of 20 hours of community involvement activities. 
For more information, including examples of community involvement hours, volunteer opportunities at your school, and relevant forms, visit our Community Involvement Hours webpage.  
When planning for graduation ceremonies, HWDSB has carefully considered rules pertaining to organized public events and social gatherings. As outlined in the Guide to Reopening Ontario's Schools, schools and school boards are expected to promote physical distancing, cohorting, and avoiding activities that may result in close contacts with others (e.g., school gatherings/school assemblies).  
In addition, the City of Hamilton follows the Ontario Framework for Reopening set by the provincial government. This includes the five colour zones of public health measures. Currently, Hamilton is in the Grey – Lockdown zone and outdoor gatherings are limited to 10 people outdoors for public events, for example.   
As we considered the common themes from our recent Thoughtexchange survey, graduation ceremonies will be coordinated by each school. Schools will plan for ceremonies that are based on a walk/drive-through graduations format. This style complied with the Ontario Framework for Reopening. HWDSB will also support the purchase of school signs that our grads can display at their homes to celebrate and recognize their achievement.  
Graduations will take place from June 14 – 28, 2021. Details related to specific graduation ceremonies will be made at each secondary school in the coming weeks. Visit our previous post to learn more about secondary graduation ceremonies.  
Elementary Learning
Remote Readiness 
A decision to close schools or move from in-person to remote learning would be made by the Ministry of Education or Hamilton Public Health Services. At this time, there has been no direction to close or move to remote learning. HWDSB will inform families through a School Messenger notification if there is a change in our learning models. 
Should there be a need to pivot schools to remote, we will engage our Remote Readiness Plan for elementary schools, similar to what was done in December 2020. Our team will be prepared to deploy devices based on school lists from the last closure. There will also be a form created for any additional student device requests.  
HWDSB is providing a third and final opportunity for families to transition between the Elementary Remote Learning Program and in-person this spring. Students will transition on Monday, May 3, 2021, with the first full day of school in a new location being Tuesday, May 4, 2021. 
The deadline for request forms to be submitted was Sunday, March 28, 2021. Families who indicated they wish to make a change will receive information about the transition during the week of April 26, 2021. If schools move into a remote learning situation as a result of a Ministerial Order, we will communicate with families who are engaged in the transition process to inform them on direction. 
This transition is based on available spaces at in-person schools due to safety requirements for physical distancing and small class sizes. If the demand for in-person learning is greater than the number of available spaces at schools, additional staff might be added to meet the demand. 
Graduation Ceremonies 
Similar to secondary graduations, elementary ceremonies will also look different this year as a result of rules pertaining to organized public events and social gatherings.  
Our Elementary Advisory Committee is creating options for Grade 8 graduation celebrations. Information about this process will be shared soon. Schools will include students in the Remote Learning Program in all Grade 8 graduation plans, including photos, hoodies, ceremonies, and awards. 
Updated on Wednesday, March 31, 2021.