HWDSB COVID-19 Updates – February 2021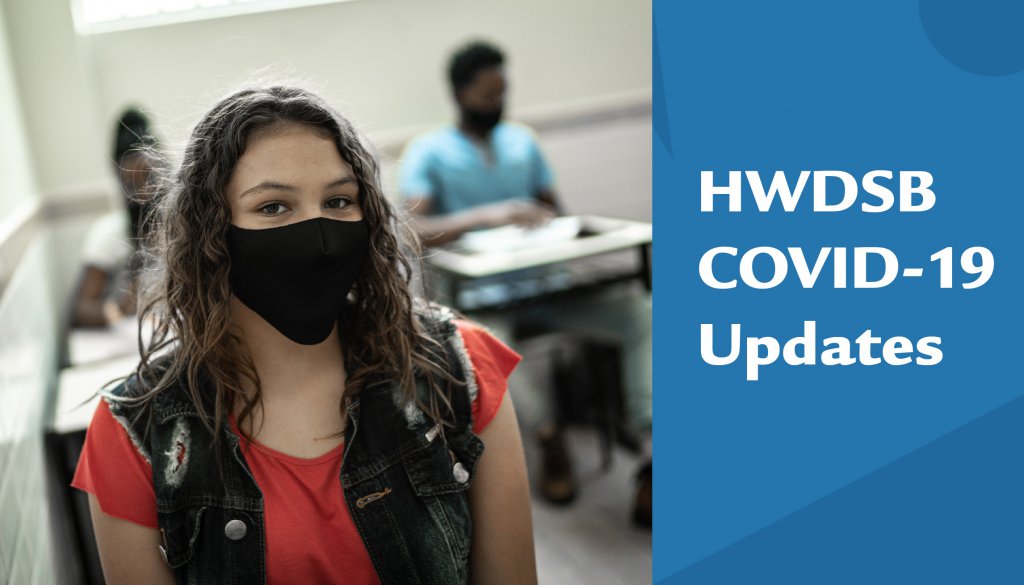 During this month's update, families can read about:
Enjoy our new COVID update format. Tell us what you think by emailing info@hwdsb.on.ca
Chair's Message
There is a lot on the minds of parents, guardians and caregivers as we enter this stage of our COVID-19 effort. Will my family be impacted by a confirmed case of COVID-19? Will my child excel in their learning during this time? When will my family receive the vaccine? We recognize these concerns. To alleviate these worries, everyone at HWDSB continues to work hard to provide the safest conditions for your child.
Recent discussions in the boardroom, unrelated to COVID-19, have raised an important concern in our community. I would like to take this opportunity to respond to our families and community.
The Board of Trustees acknowledges the challenges and harm caused to members of our community rising from our failure to provide an inclusive and supportive environment for our former Student Trustee, as outlined in a recent report. We have heard frustration from the community regarding timelines. We are working through an expedited code of conduct process to determine any potential breaches or sanctions. The Board is committed to the critical work of addressing systemic racism and bias, while holding ourselves accountable for our actions.
As we enter the spring, Trustees have a lot of work to do. In addition to our focus on the recommendations to improve our governance procedures, we will work to set a budget that reflects the diverse needs of our students, while monitoring COVID-19 related costs.
We will continue to put every effort into combating the spread of COVID-19 and strive to create positive change for our system.
Dawn Danko
Chair of the Board
---
Director's Message
As we look ahead to March, we usually anticipate the natural break that comes during the school-year calendar. This year, we will have to wait a while longer. Our postponed March Break, April 12-16, is right around the corner.
With every passing month, the long road out of this pandemic becomes a little shorter. We will soon return to our regular path forward, and we will get there together.
In HWDSB, we continue to confront many realities that COVID-19 has amplified. More than ever, we must ensure a positive culture to support well-being for everyone – staff and students. Also, we need to close the gap those for historically underserved. We need to continue to focus on our key strategies, especially our Equity Action Plan, Indigenous Cultural Safety, and the recommendations in the Safe Schools: Bullying Prevention and Intervention Review Panel report.
If there is one message that we learned from Pink Shirt Day on February 24, it's kindness. The pandemic has been a difficult time. It is my hope that we continue to show kindness, understanding and compassion as we move through the school year.
Kindness is everywhere. As one example, see how Prince of Wales Elementary School talks kindness.
Manny Figueiredo
Director of Education
---
Public Health Measures
Thank you for continuing to complete your daily COVID-19 screening before arriving at school. As we work with public health and update our communication tools, we ask that students use the latest version of the provincial screening tool available online until other tools are updated to reflect new requirements.
Download school screening in English, French, and other languages 
Staff, students and children with any new or worsening symptom of COVID-19, as indicated in the school and child care screening tool, even those with only one symptom, must stay home until: 
They receive a negative COVID-19 test result.

 

They receive an alternative diagnosis by a health care professional, or 

 

It has been 

10 days

 since their symptom 

onset

 and they are feeling better.

 
Previously, students with a minor symptom could return after 24 hours. 
If you live with someone who has a new COVID-19 symptom, you must isolate for 14-days pending the symptomatic person's COVID-19 test result. This applies to siblings of symptomatic students or children of symptomatic parents/guardians. 
If you live with an international traveller who isn't exempt from quarantine requirements, you must isolate for 14-days. 
For homes with more than one child, this means that all students in a household must stay home if a single student fails the screen; all siblings will be sent home from school if one child becomes ill. 
Secondary school students must continue to validate their daily screening when they arrive at school each day. Anyone who refuses or fails the screen will be sent home. 
Voluntary Asymptomatic Testing  
The Ministry of Education, along with the Ministry of Health and Ontario Health, are working with school boards and local public health units to support the voluntary testing of asymptomatic students and staff. This initiative will make it easier to track and prevent the spread of COVID-19 in schools. It may also inform public health decisions and help to manage outbreaks.  
HWDSB, in partnership with Hamilton Public Health Services, will be supporting this initiative. Based on guidance of the local health authority, testing will take place at select schools in our district.  
Communication will begin to support the following testing locations, dates and times.  
February 26 at Saltfleet District High School (10:30 a.m. – 7:00 p.m.)

 

March 5 at Orchard Park Secondary School (10:30 a.m. – 7:00 p.m.)

March 12 at Bernie Custis 

Secondary School

(11:30 a.m. – 7:00 p.m.)
All secondary school locations will be open to students and staff in the feeder schools. Stay updated and learn more. 
Testing During an Outbreak 
In some situations, additional testing will be offered outside of the scheduled asymptomatic testing clinics. Hamilton Public Health Services (HPHS) helps us determine when additional testing would be beneficial including whether it is necessary during an outbreak. 
Probable Cases  
Sometimes HPHS has cases that are identified as probable cases of COVID-19. For the protection of children and to prevent spread, HWDSB will work with HPHS to take measures including the dismissal of close contacts. If public health has additional information that suggests it is safe to return, they will contact families to end their child's isolation.   
A probable case will be identified as probable on the HWDSB COVID-19 Dashboard. An update will be provided to families on the school website to indicate whether the positive case meets the criteria or not of a positive confirmed case after further investigation. 
COVID-19 Variants of Concern  
The variant of COVID-19 has been identified in a positive COVID-19 case in the city of Hamilton. Modelling and epidemiological studies suggest that the COVID-19 variants can spread easier and faster. HPHS will begin to post cases containing a variant that have screened positive and confirmed positive cases to the City's website in the coming days. The school community will be notified through a website post if the variant is associated with a school.  
---
Learning at HWDSB
Report Card Distribution  
The secure delivery of unofficial report cards for elementary school students were sent on February 19. Secondary school reports were shared February 23. Learn more.
As you know, the March Break has been moved to April 12-16, 2021. We acknowledged that this is another change in this unprecedented school year. We recognize that many of us were looking forward to being able to rest and recharge. We know how important this break is, particularly during this year, and look forward to this five-day break in April. 
Secondary Calendar

: 

For secondary school, April 15 was 

the 

mid-term. We have adjusted the 

Secondary Semester

 calendar 

and modified our reporting timelines. 

April 19 will be the end of the second rotation and the first day of the third rotation will be on April 20.

 
Ontario Secondary School Literacy Test (OSSLT)  
The OSSLT will be offered from March 23 to June 4, 2021, inclusively. A date will be shared with your child. The test will be available to students participating in in-person learning and working toward their Ontario Secondary School Diploma (OSSD).  
Students in Grades 10 and 11, and non-graduating Grade 12 students, can attempt the test and, if successful, have it counted on their transcript. Because the Ministry of Education has waived the literacy graduation requirement for all students graduating during the 2020–2021 school year, graduating students do not need to take the field test. 
The second transition period for elementary students moving between in-person and the elementary remote learning program was completed this week. An additional 8 teachers and 3 designated early childhood educators have been added to support these transitions.  A third and final transition period is being planned for early May. Like the previous two transition periods, we will communicate with families ahead of this date. 
Athletics/Extracurricular Activities   
The pause on athletics and extracurricular activities continues to be in place at HWDSB. OFSAA (Ontario Federation of School Athletic Associations) has announced there will be no events in the spring. Read OFSAA's full statement.  
School Council Fundraising  
Many parents/guardians have expressed interest to resume school fundraising. With the current state of public health measures, we will continue to pause on the fundraising activities. Schools can participate in philanthropic initiatives such as supporting the Hamilton Foundation for Student Success and The United Way Halton & Hamilton, for example. 
Donations to a particular school can be made through the Hamilton Foundation for Student Success. Learn more or contact Amy Leaming Cote, Executive Director at aleaming@hwdsb.on.ca. 
Updated on Friday, February 26, 2021.