HWDSB COVID-19 Updates – January 2021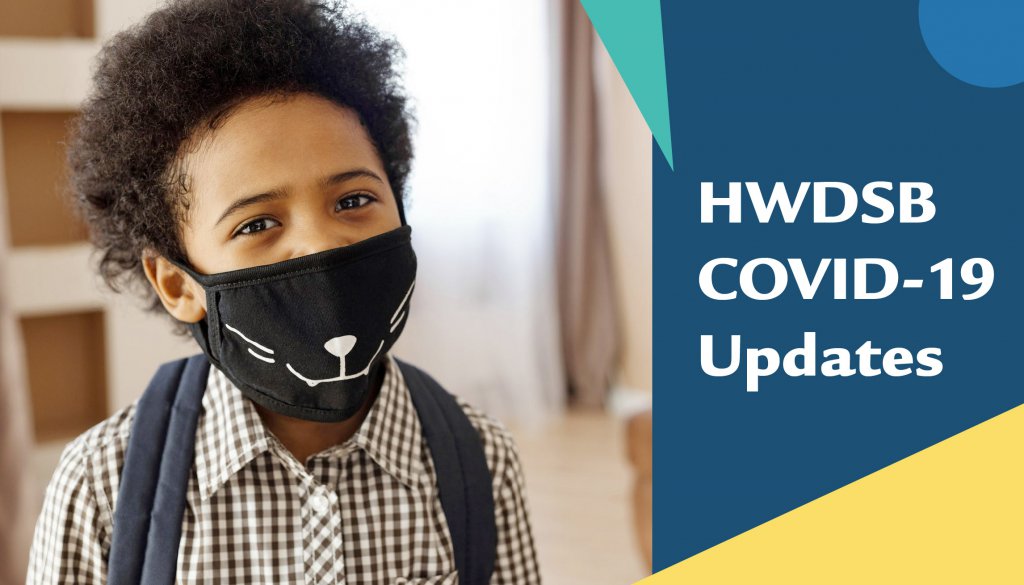 Welcome!
During this month's update, families can read about:
Enjoy our new COVID update format. Tell us what you think by emailing info@hwdsb.on.ca
Chair's Message
I hope that you will watch my video message. Let me express my thanks to our students, families, and staff for showing strength and resilience at this stage of the pandemic. Everyone is doing their best during the remote learning extension.
Dawn Danko
Chair of the Board
Notable items around the Boardroom table include: Public consultation on the School Year Calendar and Board Budget priorities for 2021-22, as well as the vaccination plan for education sector in phase 2.
---
Director's Message
It has been almost a month since we began remote learning and supported some students with pervasive special education needs with in-person learning. I am heartened to know that staff, students and families are supporting each other and making the most of this situation.  We know it's been difficult.
As we continue to focus our attention on the needs of the system during this pandemic, I am pleased to share with staff and the community our 2021-22 Board Annual Plan. This sets a clear vision for our work as a system and charts the focus of our work guided by our strategic directions.
Recently, the Safe Schools: Bullying Prevention and Intervention Review Panel delivered its Final Report to Trustees. Based on extensive community consultation, the recommendations will better address bullying. Our commitment is to implement these recommendations for our students.
COVID-19 has meant that many students are struggling in many ways. Some have experienced job loss in their family or personal limited job opportunities, while others are grappling mentally and socially. On February 4, please join me and the Hamilton Foundation for Student Success by celebrating our COVID-safe virtual gala. Proceeds of the Showcase of heARTS will be directed to support students.
I hope that you find this newly formatted HWDSB COVID-19 Updates helpful. As we look ahead, this monthly summary will help families navigate our way through, and out of, this pandemic.
Manny Figueiredo
Director of Education
---
Public Health Measures
Communication with families related to COVID-19 cases remains a priority. Staff continue to track cases for students and staff currently working and learning in-person. All close contacts will be notified.  When students return to in-person, we will continue to manage COVID-19 cases and share communications.
Case Management Communications
School Messenger notifications will continue to be used to alert close contacts only and inform the school related to outbreak status. We will continue the practice started over the winter break to end the courtesy School Messenger notifications to school communities informing them about a positive case at a particular school. Parents, guardians and caregivers can continue to find information about confirmed cases via:
School websites (elementary/secondary) viewed in the News section
Subscription service to receive an email when information is posted on the school website
Staff Safety
Staff will see additional measures in place with stricter emphasis in the workplace with posters from the Ontario Government to workplace lunchrooms and breakrooms. Keep it up at work …be COVID SAFE! Poster series
Your break is not a break from COVID safety
Keep it to yourself during COVID
COVID should not be on the menu at lunch
An enhanced daily screening requirements will also be in place for staff.
Mask Requirements
The Ontario Government made mask wearing mandatory for students in Grade 1 – 3 (unless a mask exception is in place). In HWDSB, masks have been a mandatory requirement since September. Students will however need to wear masks during specified outdoor activities where physical distancing cannot be maintained.
Student Safety
Students are discouraged from congregating before and after school. If children are walking home together, we asked they continue to maintain their 2-meter distance.
HWDSB continues to work with Hamilton Public Health Services and the Ontario Government on the enhanced screening criteria for students. Details on any changes to our process will be shared prior to return to school.
For the return to school, please be reminded that anyone feeling ill should not attend school. Students and staff who have tested positive for COVID-19 over this time of remote learning must follow public health instructions around self-isolation and self-monitoring and be symptom-free for 24 hours before returning to school. Please complete the self-isolation form when classes resume if your child was confirmed positive for COVID-19 during this time.
On-site Screening (Secondary Schools and all staff)
Self-screening for secondary students and staff prior to or upon arrival to school will be in place when we return. Secondary schools are required to confirm that students have completed and passed their daily COVID-19 self-screen. More information will be shared before we re-enter in person school.
COVID-19 Testing
The Ontario Government announced the expansion of targeted testing for students and staff. Testing will be voluntary and will include child care settings. HWDSB continues to work with Hamilton Public Health Services to identify the criteria for this testing program and how schools may be identified.
Mental Health resources
Well-being during COVID-19 has been an important initiative for HWDSB and we continue to strive to share tips and strategies with families. Hamilton Public Health Services alongside the Lynwood Charlton Centre have created a resource webpage to help those looking for mental health support for children and youth during the pandemic. We hope this resource will help families support their mental health.
---
Learning at HWDSB
Currently, students and staff now learning in a remote learning program will return on Thursday, February 11, 2021. HWDSB will inform families should the Ministry of Education, in consultation with the Chief Medical Officer of Health, extend the remote learning period.
Return to In-person
Currently, students and staff now learning in a remote learning program will return on Thursday, February 11, 2021. HWDSB will inform families should the Ministry of Education, in consultation with the Chief Medical Officer of Health, extend the remote learning period.
Device Deployment
Approximately 24,900 devices have been deployed to students. Internet connectivity and access to devices. This include devices to secondary students, devices deployed to elementary students, devices deployed during the January 2021 distribution effort, and the devices that are on order. Many of the devices that were on order have been received.
We continue to respond to requests for regular devices as well as Internet enabled (LTE) devices and have been deploying on a weekly basis.
Elementary School
Attendance
Several parents have asked that attendance be taken later in the class because they have experienced their students being marked absent because they could not connect in time at the beginning of the class. This will be honoured.
Elementary School Transitions
The elementary transition process is continuing as planned, based on the assumption of a return to in-person learning on February 11, 2021. If the Ministry extends full remote learning, the timelines will be adjusted accordingly.
Based on the feedback received the focus of this upcoming transition will be to meet parental requests with as minimal disruption as possible. The transition will be staggered:
Students will be able to transition directly to the Remote Learning Program when schools re-open so they do not have to return to in-person learning.
Students transitioning from the Remote Learning Program to in-person (space permitted) will occur during the week of February 22.
If demand is greater than space for in-person requests or remote program classes size become to great, additional staff might be added which would require some student movement.
At this time, there will be a third transition process offered in the Spring. Learn more about Elementary Transitions.
Secondary Schools
Semester Two Updates
Semester 2 begins on Tuesday, February 2, 2021. Due to the current direction from the Ministry of Education, schools in Hamilton remain in remote learning mode up to at least February 10.
Secondary schools will start Semester 2 with all classes delivered remotely in 75-minute periods with regular lunch breaks. When we receive direction to resume partial in-person instruction (adaptive mode), HWDSB secondary schools will again move to a rotational model, the same as schools used in Semester 1. Read more.
Connected Time
We want all students to feel connected to their classmates, their teachers and their school. Based on feedback, we will be adjusting the daily schedule for the Semester 2 rotational model to build these connections.
All students – those learning in person and at home – will have at least 30 minutes daily of connected time with their teacher during the morning period. Connected time can come in many forms (e.g. MS Teams meeting, MS Teams chat, HUB chat, etc.) and educators should decide on what structure works best for their students and delivery of the learning.
We are also expecting all students to be present and engaged in learning at the start of each period, morning and afternoon. We continue to learn and adjust in an unusual school year and want to foster engagement for all students.
Extra-Curricular/Virtual Clubs
Staff will begin to support and share practices to create more opportunities for virtual clubs/extra-curricular experiences to begin.
Live Performances
As we continue to move through the school year with COVID-19 restrictions, live performances are cancelled. This includes system-based programs such as ARTsmart and HWDSB Audition-Based Program of the Arts at Glendale.
Graduations/Commencements
In February, staff will share a Thoughtexchange with Grade 12 students to seek ways to celebrate Grade 12 graduation/commencements in ways within various COVID-19 limitations.
Thank you for visiting this month's HWDSB COVID-19 Update.
Updated on Wednesday, January 27, 2021.