Shelley Moore Talks Inclusion and Universal Design at Special Education Advisory Committee Event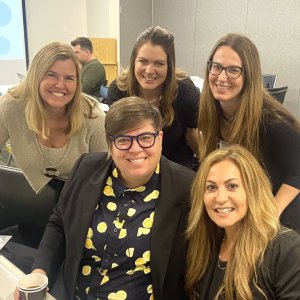 On October 13, 2022, staff, families, and community members were invited to the HWDSB Education Centre for an exciting speaker. The Special Education Advisory Committee (SEAC) was proud to have Shelley Moore join us for a keynote presentation on Inclusive Education, Universal Design for Learning (UDL), and Advocating for Inclusion in Today's Classrooms and Schools.
Moore is a Canadian educator, author, and expert on special education who advocates for inclusive education. She seeks to reform Individual Education Programs to better suit the needs of individual students. Moore is the author of the book One Without the Other.
The session provided an understanding on how inclusion is shifting, using a strength-based lens to make space for all students' diverse identities. Attendees dove into the research of inclusion, and reflected on what criteria we can use to guide our advocacy efforts, from kindergarten all the way through secondary school and beyond.
The event marked the second time Moore was able to present to the HWDSB community in 2022. Back in June, she joined us for an "Evolution of Inclusion" event, which was co-presented by Hamilton-Wentworth Catholic District School Board (HWCDSB).
Both sessions were a hit with attendees, and we hope to have Shelley Moore return to HWDSB in the near future. Check out some of the social media highlights below.
She's here! So excited to "get on the bus" with @tweetsomemoore today at @HWDSB. Thank you for inspiring us with your stories, wisdom, humour, and purpose! pic.twitter.com/V258SHUjQB

— Stefanie Seiler (@mrs_seilerHWDSB) October 14, 2022
Very rich PD day with @tweetsomemoore @HWDSB. I know my team is excited to continue this conversation in supporting teachers and students, as well as deepening our own learning in making curriculum accessible to all. Thank you for being so inspiring Shelley! #HWDSBSLRTteam pic.twitter.com/498LpxE4Sj

— Susan Willis (@SWillis161921) October 15, 2022
Very inspiring morning with @tweetsomemoore reflecting on the beliefs of inclusive and responsive learning environments and designing adjustable classrooms @HWDSB pic.twitter.com/YSFqlBXdcC

— WelcomeCentre (@Welcome_HWDSB) October 14, 2022
"It is SO possible to do this work." ~Shelley Moore… Thank you SO much @tweetsomemoore for pushing my thinking today about inclusion in so many ways! Feeling inspired as we continue our work @Yorkview_HWDSB @HWDSB pic.twitter.com/6RZN62FnaY

— Suzana Milinovich (@SMilinovich) October 13, 2022
THANK YOU @HWDSB Specialized Services and Program for bringing @tweetsomemoore to #HamOnt Amazing conversations today among educators for moving us along the continuum of inclusion. @SWillis161921 @LMcAnanama @MacLauraNeil @eMac0629 pic.twitter.com/mFzBifXOuU

— Ms. J. Marshall (She/Her) (@MarshallJ2032) October 14, 2022
Feeling lucky to have been present for @tweetsomemoore sharing @hwdsb today. Still thinking deeply about the myth of linear curriculum. Finding the conceptual entry point in each expectation can make those standards inclusive & accessible #UDL

— Jared Bennett (@mrjarbenne) October 14, 2022
It was nothing short of inspiring @HWDSB with @tweetsomemoore in the house!

— J. Anderson (@jandersoprinmom) October 16, 2022
Have others seen this? Grateful to @tweetsomemoore for sharing this during her @HWDSB presentation yesterday. When you click on the need, a variety of strategies are shared. Practical & targeted ideas. So useful! https://t.co/KEXLl34tul #spedchat #onted

— (@avivaloca) October 15, 2022
#ShelleyMoore is at the Ed Centre today!!! So excited to listen to her today and I hope to soak up all she has to share! #HWDSB #Inclusion #KidsFirst

— Kierstyn Beattie (@LadyKBeattie) October 14, 2022
Updated on Thursday, December 15, 2022.