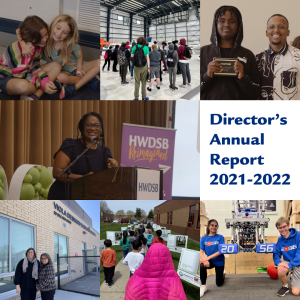 It would be an understatement to say that 2022 was a year of transitions at Hamilton-Wentworth District School Board (HWDSB). 
Students, staff, families, and community members continue to transition out of the height of the pandemic and back into in-person learning spaces that have renewed focuses on literacy activities, STEAM-based (science, technology, engineering, arts, and mathematics) education, communication commitments, and facility improvements. 
Times of transition happened at various moments throughout the school year. Whether it was the return to school in September, the final days as departing students celebrated commencement, or a transition into a new school building, positive changes are always taking place at HWDSB. 
HWDSB completed a major transition in August when it welcomed a new Director of Education. I have already made stops around the community to visit schools and partners, and my passions for Indigenous Education, student voice, and human rights and equity will continue to be at the forefront of my work. 
As we come to the end of this calendar year and prepare to enter 2023, HWDSB is getting ready to embark on a process that will support the transition to new Strategic Directions, as the current ones have been in place for six years. The development and implementation of new Board priorities will involve extensive consultation. We will share more information about this process in January 2023. We look forward to igniting imagination and efforts as we co-create directions that will help guide HWDSB students, staff, families, and community members for years to come. 
It can be difficult to capture all the wonderful projects, stories, and achievements from a 12-month period, but the Director's Annual Report aims to accomplish this feat. 
Read the 2021-22 edition to learn how HWDSB progressed in the five Strategic Directions outlined in the 2022 Board Annual Plan: Positive Culture and Well-Being, Student Learning and Achievement, Effective Communication, School Renewal and Partnerships.
Sincerely,  
Sheryl Robinson Petrazzini
Director of Education 
Positive Culture and Well-Being
---
We will build student and staff well-being through positive climate strategies and supportive relationships.
2021-22 Update on Positive Culture and Well-Being
At the Program Committee meeting on November 22, staff presented an update on HWDSB's Positive Culture and Well-Being priority. This report focused on the Equity Action Plan, Mental Health and Well-Being, and Safe Schools Action Plan.  
In this important strategic priority, we commit to building student and staff well-being through positive climate strategies and supportive relationships. Our goal is to improve the well-being of all students and staff and close the gap for those currently and historically underserved.  
We aim to have at least 80 per cent of students and staff who self-identify as Black, Indigenous, Racialized, Two Spirit and LGBTQIA+, and people requiring special education supports and/or services feeling safe, supported, accepted, and affirmed in their diverse and distinct identities.  
This wide-reaching and challenging work is organized into three categories: Investing in People, Leveraging Effective Practices, and Refining Measures of Progress.  
We continue to invest in people by prioritizing the use of Culturally Relevant and Responsive Pedagogy (CRRP) approaches. Consider literacy: every educator must be aware of their own bias, expect that every student can learn to read, and help students connect with texts that reflect their identities and interests. This year, we will continue to provide professional development and embed CRRP into all areas of the curriculum and de-streaming practices.  
The Graduation Coach Program for Black Students is an effective practice that promotes Black excellence and connects mentors to Black students who would benefit from culturally responsive support that affirms their identities. Following successful school years at Bernie Custis, Westdale, Sherwood, and Sir Allan MacNab, the program has now expanded to Nora Francis Henderson and Sir Winston Churchill secondary schools for 2022-23.  
To provide identity affirming mental health and well-being programming, we offer social connection opportunities to students from historically and currently underserved populations, such as the Transcend Youth Group for transgender, non-binary, gender non-conforming and gender-questioning youth. Staff are also developing initiatives with community service partners such as Youthrive, a collaboration that includes THRIVE Child and Youth Mental Health, Hamilton Regional Indian Centre (HRIC), and more.   
The recommendations from the Employment Equity Audit helps leverage effective practices by examining HWDSB on hiring, advancement, and inclusion of employees from diverse backgrounds. So far, 46 of the 70 recommendations are complete, with 22 more expected to be done this school year. Some highlights include removing the costs of applying for jobs via Apply to Education, focused recruitment for Black and racialized educators, a new Careers website based on feedback from employees and the audit, and more. We will also review all policies and practices through the lens of the new Human Rights Policy.  
Staff also continue to refine measures of progress, and the development of an infographic of Student Census frequencies has assisted in these efforts. Now, we are preparing for community consultation as we approach the linking of datasets and calculating disproportionalities. We must present any census findings about disproportionate representation in a way that builds understanding, empathy, and avoids stigmatization and assumptions.  
Reimagining Wellness 2.0, a series of lessons that focuses on the creation of accepting classrooms where every student belongs, has been an effective way to measure progress. This focus throughout the month of September prioritizes the building of positive relationships. Reimagining Wellness 2.0 helps to support the Safe Schools Action Plan, which strives to create safe, welcoming, and inclusive classrooms and schools.  
Thank you for helping to build and maintain positive and caring school communities across HWDSB! 
Student Learning and Achievement
---
We will improve student learning and achievement through effective instructional strategies.
2021-22 Update on Student Learning and Achievement
At the November 7, 2022 Board Meeting, HWDSB Trustees received the Student Learning and Achievement Report for 2022-23. This report highlights progress made in the previous school year, while also charting the path ahead for this current year through an Annual Plan.  
The Student Learning and Achievement Report strives to improve graduation outcome and reading achievement for all students, as well as close the gap for those currently and historically underserved. These goals are targeted through the implementation of three strategies: Investing in People, Leveraging Effective Practice, and Refining Measures of Progress. 
Over the 2021-22 school year, we saw how de-streamed Grade 9 Mathematics and a new course selection process can contribute to improved graduation outcomes for students in grades seven to twelve. This important work will carry on this school year thanks to a continued de-streamed Grade 9 program, Specialized Services courses on Universal Design for Learning (UDL), and alternative approaches, such as Student Success Days, for final evaluations. 
Last year, there was also progress in reading achievement for HWDSB students in Kindergarten to Grade 6. The Ontario Human Rights Commission's (OHRC) Right to Read Report, Culturally Relevant and Responsive Pedagogy (CRRP), and effective phonics instruction had major influences on the annual approach. For the 2022-23 school year, our focus on reading achievement will remain in place, and we will prioritize professional learning opportunities on CRRP and phonics as well as effective reading instruction and assessment practices inspired by Right to Read. 
The Strategic Direction of Student Learning and Achievement also received attention when the Education Quality and Accountability Office (EQAO) recently released school and school board data for last school year's assessments. 
2021-22 marked the first year HWDSB students participated in EQAO assessments since the start of the pandemic, and I want to thank staff for supporting this process. The results represent a new baseline for HWDSB, and we expect them to help inform our future Strategic Directions. We will also use data to support new and existing learning recovery strategies, such as extended tutoring supports, and professional learning, and more. 
2021-22 was the second full school year impacted by the pandemic. The year included heightened public health measures, a shift to remote learning for all students in January 2022, and ongoing concern for the pandemic's impact on the achievement and well-being of all students, but especially those who are currently and historically underserved. In response, HWDSB created Pandemic Recovery Commitments, to support an equitable post-pandemic recovery and recognize the importance of well-being, safety, and inclusion for students and staff. 
HWDSB's response to the pandemic acknowledges that some instructional or assessment practices do not serve all students. Key instructional approaches for 2022-23 are CRRP, UDL, and Indigenous Cultural Safety (ICS). These strategies foster inclusion and reduce marginalization, and they use student identities, cultures, interests, and lived experiences as resources and not barriers for learning. 
When students are learning, they are achieving! 
Effective Communication
---
We will improve our communication through comprehensive strategies.
2021-22 Update on Effective Communication
HWDSB is committed to improving and expanding its ongoing communication with students, parents, staff, and the community in order that we can work collaboratively to provide the best education possible. This commitment is outlined in its Strategic Directions under the priority, Effective Communication.   
Throughout the development of the plan, five priorities emerged to support the goal that HWDSB will create a culture of communications and engagement through the implementation of its strategic directions. The strategies include Leadership, Staff Ambassadors, Student Outreach, Digital Engagement, and Partnerships.   
A system strategy to support schools with enrolment and registration began in summer 2022. A message to families was shared on Monday, August 29 to inform parents that the Parent Portal was open and that access to students' educators and timetables were available. More than 56,000 families accessed the Parent Portal this year, which is more than double the previous year. HWDSB continues to review the platform and improve accessibility, language and literacy, navigation, data integrity, including contact information updates.  
In 2022, staff in Communications and Community Engagement transitioned from being directly involved in COVID-19 communications, such as case management and COVID-19 Updates, to a plan that is recovering from, and leading into, the future beyond the pandemic. This recovery plan maintains the HWDSB's commitment to effective communication with families.    
Thie recovery plan includes the review of lessons learned and feedback from the communication effort during the pandemic. For example, the COVID-19 Update to Families was a positive method of communication. Staff are exploring ways to include this summary of Board news in its communication offerings.  
Throughout the 2021-22 school year, staff in Communications and Community Engagement department engaged in research to determine what minimum standards of communication can be articulated for families. For example, when there is a Secure Schools incident, caregivers can expect to receive a consistent response, regardless of which school their child/ren attend. In June 2022, the HWDSB Executive Council approved the Communications Standards.   
HWDSB's Communication Standards were introduced internally to Principals and Vice-Principals in August 2022 and shared with the community in October. Communication Standards builds on the strategy that promotes standardized digital platforms and connects with a positive customer service experience for families.   
Effective communication builds positive relationships with parents, guardians, and caregivers. Staff want families to be well informed and know what to expect. HWDSB want staff to know how, what and when to communicate. This is HWDSB's communications commitment to families. 
As part of HWDSB's digital storytelling strategy, staff profiles stories about students, partners, schools, programs and staff. The framework is based on the audience or program profiled. The stories are collected and shared on social media. All the stories are done through an equity lens. This digital storytelling strategy allows human-interest stories to be shared, while maintaining a presence for audiences to consume content related to corporate, Board, or ministry news.   
Storytelling includes various forms of communication such as video and written articles. The content areas feature students, partners, schools, programs, and staff. The storytelling connections to Strategic Directions include positive culture, achievement, well-being, partnerships, learning and school renewal.  
There is much to celebrate as staff reflect on the gains made over the course of implementation of the Strategic Communications and Engagement Plan! 
School Renewal
---
We will optimize opportunities to invest in improved school facilities.
2021-22 Update on School Renewal
At HWDSB, the School Renewal strategic priority matters because quality school environments support student learning and well-being. The most recent School Renewal update at Finance and Facilities was shared in June 2022. 
Our commitment at the heart of School Renewal is to optimize opportunities to invest in improved school facilities, so that we might improve the conditions of our schools. 
Specifically, we want our School Renewal strategies to move us forward, so that we see at least 25 per cent fewer schools identified as being in poor condition by 2024. 
2021-22 was the first year of our Long Term Facilities Master Plan. One important area funded that year was $4.5 million for secondary facility benchmarks. We developed new secondary benchmarks to ensure consistency across our schools. The new benchmarks include renovations to cafeterias, changing rooms, main entrances, corridor and locker painting, washrooms and ceilings. For example, benchmark work at Sherwood Secondary School is well underway. 
We also have new elementary benchmarks, which include ceiling and LED light replacements, main entrance/ foyer enhancements, revisions to the previous benchmark strategy and washroom renovations. The 2021-22 annual capital plan committed $10 million for elementary facility benchmarks; some of this proceeded as planned, while other work awaited approval of gym expansions and the completion of pupil accommodation reviews before work begins. 
Also in 2021-22, HWDSB received an additional $30.2 million to construct two new elementary schools: one in Binbrook and one in Upper Stoney Creek. These projects will be designed in a way that meets our elementary facility benchmarks. 
Our staff and Trustees continue to work with City of Hamilton staff and Councilors to ensure that we receive project approvals as quickly as possible. A close relationship comes with mutual benefits for HWDSB and the City. We can inform the city about priority projects due to their construction timelines, and the City can clarify expectations for approvals, so our submissions are as complete as possible, and we do not encounter delays. In 2021-22, we met regularly at the City-Board Liaison Committee.  
Likewise, we continue to work with Ministry of Education staff and elected officials, to move provincial approvals forward and to highlight the impact of delays to projects such as the elementary gym additions. 
In February 2022, we submitted three business cases for Ministry capital funding: 
A new school to replace Rousseau, as per a Board of Trustees decision in 2017 regarding the Ancaster accommodation review.

 

A new elementary school on the former Sir John A. Macdonald Secondary School site, to replace Hess Street and Strathcona elementary schools.

 

A second elementary school in east Waterdown, south of Highway 5, to address the accommodation pressures created by residential growth.

 
Unfortunately, none of these capital submissions has received funding yet.  As always, we will submit approved business cases when the next round of funding is announced, in the hope that we can continue our record of success in capital funding requests. 
As mentioned above, we measure our progress on School Renewal with a target – and we are on track. We expect to have at least 25 per cent fewer schools in poor condition by 2024. We identified 16 schools in poor condition in 2020-21, and only 12 schools in 2021-22. 
We are proud to be providing better schools in which students can learn and staff can work! 
​​
Partnerships
---
We will strengthen our collaboration with new and existing community partners to enhance opportunities for students.
2021-22 Update on Partnerships
The 2021-22 Annual Plan has a goal of strengthening collaboration with new and existing community partners to enhance opportunity for students. The pandemic has placed an importance on establishing virtual partnerships, and we hope to see a continued increase in virtual partnership opportunities to support students as outlined in the most recent Partnerships update. 
The Needs Assessment and Partnership Evaluation is part of the overall Engagement Strategy. It is designed to understand the school-based needs related to partner support, as well as to evaluate the partnerships in relation to meeting these needs. The Needs Assessment will ask administrators to rank their top three needs based on HWDSB Areas of Support. This data will allow for appropriate program selection by schools, as well as system level decisions regarding support. 
As part of the Ontario Learning Recovery Plan, the Ministry of Education has provided significant financial support to implement additional tutoring initiatives at HWDSB. Tutoring support has been identified to aid in learning recovery for students. Staff continue to support the implementation and communication of tutoring services provided by community partners.  
In November 2021, HWDSB, in partnership with Hamilton Tiger-Cats, launched Our Cup, Our Community: Lessons and Stories from the CFL. The six-week program ahead of the Grey Cup in Hamilton aimed to tackle important social issues and highlight the benefits of physical literacy. As part of this program, students and staff from Prince of Wales Elementary School were able to attend a launch event at Tim Hortons Field. Students played football with Chuck Ealey, CFL Grey Cup Champion, and Stripes, Hamilton Tiger-Cats mascot. 
HWDSB and the Hamilton Fire Department (HFD) have a longstanding relationship, which has become more involved over recent years. In 2021-22, HWDSB promoted and implemented a virtual Fire Safety Education Program, which was comprised of several initiatives throughout the year. Staff worked with Hamilton Fire Department to develop resources and educational material to support lessons for educators on each weekly topic for Fire Safety Fridays. 
The Partnership Opportunities Memo helps to share current and appropriate opportunities offered by partners with school staff. From September 2021 to April 2022, there were 39 unique virtual partnership opportunities communicated via the Partnership Opportunities Memo. These memos have included virtual opportunities from organizations such as Multicultural Artists in Schools and Communities, Greenpeace, Storytime Trails, and Hamilton Black History Council. 
For too many of our students, food inequality and limited access to food sources is a lived reality. This situation was exacerbated by the pandemic. School nutrition programs provide needed support to students. HWDSB nutrition partners, including Tatsebuds, Food4Kids, and Hamilton Bulldogs' Foundation, continue to explore opportunities to provide students with stable access to food sources.  
The Focus on Youth (FOY) program continued to find creative ways to navigate the pandemic during the 2021-22 school year. It evolved and adjusted to changing limitations, while looking to provide the most beneficial experience, including virtual opportunities, for students. FOY provided high-quality summer program opportunities for children and youth in Hamilton while simultaneously providing employment opportunities to 60 HWDSB students. FOY also helps to strengthen structures for collaboration within HWDSB and with community partners. 
Thank you to the wonderful community members and organizations who continue to be our partners in education! 
​
Updated on Friday, December 16, 2022.