Our COVID-19 vaccine web page features resources and materials from the City of Hamilton and Province of Ontario.
Eligibility
For the most up-to-date information on vaccines and eligibility, please see the City of Hamilton COVID-19 Vaccine web page.
Clinics in Schools
Scheduled vaccine clinics in schools are complete at this time. Information will be shared if new clinic dates are shared.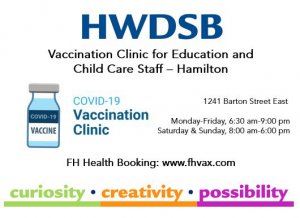 Clinics for Education and Child Care Staff
The Ministry of Education announced the dedicated vaccination clinic for education and child care staff in Hamilton. Appointments can be scheduled through the dedicated FH Health booking website. The website includes a listing of other clinics located in nearby regions. Appointments are refreshed every hour.
These appointments are held exclusively for Ontario education and child care staff, which includes educators, custodial staff, administrative staff, and school bus drivers, and child care staff. Staff are to bring their Health Card and proof of employment, which includes this email, a pay stub, or an employee badge.
Translations
Ambassadors: In Hamilton, translation services are provided by the vaccine ambassadors in a number of languages, including Mandarin, Spanish, Arabic, French, Dazaga, Vietnamese, Nuer, Swahili (Kiswahili), Lingala, Thilumba, Kikongo, Urdu, and Punjabi. The vaccine ambassadors are available to answer any questions on the vaccine, assist with booking, and/or setting up a phone consult with Sick Kids or Scarborough Health Network (SHN) to speak with a physician or pediatric nurse about specific health questions related to COVID-19 vaccines. The vaccine ambassadors can be reached at

[email protected]

.
COVID-19 Hotline: Hamilton Public Health COVID-19 Hotline offers translation services in multiple languages. COVID Hotline 905-974-9848
The City of Hamilton's website can be translated into different languages by using the translation tool. This tool gives residents and visitors who speak other languages a way of accessing City information featured on the website. To translate the page: Click the "Translate" feature located at the bottom of the web page, then select one of the 51 languages available.
Other trusted resources: Translated COVID-19 information and materials are available in multiple languages. Topics include: testing, self isolation, handwashing, mask wearing, physical distancing, hand washing and vaccinations. The following translated COVID-19 messages are available for use in our community.
Learn more
Updated on Thursday, August 04, 2022.