Our COVID-19 vaccine web page features resources and materials from the City of Hamilton and Province of Ontario.
City of Hamilton Immunization Status Parent Information Package
The City of Hamilton has created a Parent Information Package that includes a Letter to Families from Dr. Ninh Tran, Associate Medical Officer of Health, as well as Information Resources and answers to Frequently Asked Questions. The letter notifies families that local public health units access students' COVID-19 vaccination information when supporting case, contact, and outbreak management in schools. This information is kept confidential and public health units may reach out to families if they have questions about a student's immunization status.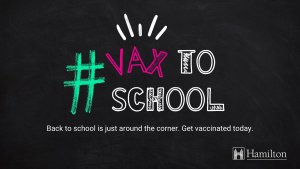 Learn more: City of Hamilton Immunization Status Parent Information Package
School-Based Vaccine Clinics and Vaccine Distribution
Although the school-based vaccine clinics have completed the start-up schedule, students who still require a vaccination can access the City of Hamilton's vaccine distribution website. Staff will be ready to work with Hamilton Public Health Services if there is a need to support school-based vaccine clinics in the future. 
Learn more about COVID-19 vaccines for youth. 
About Vaccines
Video Resources for Booking a Vaccine
Youth who are turning 12 before the end of 2021 can walk in or book an appointment at many vaccine clinics in Hamilton to receive their first or second dose of a COVID-19 vaccine. You can get your second dose 28 days after receiving a first dose.
For the latest information surrounding COVID-19 vaccines for youth, visit the City of Hamilton's webpage.
ADDITIONAL RESOURCES
Public Health Services' COVID-19 Hotline: 905-974-9848 or phscovid19@hamilton.ca
On August 17, 2021, the Chief Medical Officer of Health Dr. Kieran Moore announced an immunization disclosure policy would be required for all publicly-funded school board employees, staff in private schools and licensed child care settings and other individuals frequently in these settings who may have direct contact with students and/or staff, for the 2021-22 school year.
At HWDSB, all staff were expected to submit a formal attestation and identify if they are "fully vaccinated" against COVID-19 (and provide proof of full vaccination) or "unvaccinated." Staff who are unvaccinated identified the reason for their disclosure status including: medical, human rights, or personal.
At a Board meeting Monday, September 13, 2021, Trustees at Hamilton-Wentworth District School Board (HWDSB) approved a mandatory COVID-19 vaccination procedure for all staff, Trustees, service providers and volunteers. Staff will are working collaboratively with Hamilton's local public health unit, local partners and HWDSB employee groups on a mandatory vaccination measure grounded in education and incentives.
Staff disclosure statistics

As of Sept. 15, 2021
As of Sept. 22, 2021
As of Sept. 29, 2021
As of Oct. 06, 2021
School Board Employees & Trustees
School Board Employees & Trustees
School Board Employees & Trustees
School Board Employees & Trustees
#
%
#
%
#
%
#
%
Total number of individuals to which the policy will apply
7,196
100.00%
7,157
100.00%
7,172
100.00%
7,144
100.00%
Total number of individuals who have attested to being fully vaccinated (with and without supporting documentation)
6,090
84.60%
6,194
86.54%
6,297
87.80%
6,403
89.63%
Total number of individuals who have attested to being unvaccinated
575
8%
551
7.70%
515
7.18%
456
6.38%
Total number of individuals who provided a documented medical reason for not being fully vaccinated
65
1%
59
0.83%
59
0.83%
59
0.83%
The number of individuals who have not yet submitted an attestation form, if known
466
6.40%
353
4.93%
301
4.20%
226
3.16%
Resources
Privacy and Immunization Status 
Asking someone about their vaccination status has become normalized. As students and staff come together in schools, we remind everyone that someone's health information is confidential, which includes receiving a vaccination or not. Please do not ask someone if they have received the vaccination or engage in conversations about someone's opinion about vaccinations.
Educators will support inclusive classrooms that promote respect and support each other's wellness.
The City of Hamilton's website (www.hamilton.ca/coronavirus) can be translated into different languages by using the translation tool. This tool gives residents and visitors who speak other languages a way of accessing City information featured on the website.
To translate the page:
Click the "Translate" feature located at the bottom of the webpage.
Select one of the 51 languages available
COVID-19 Hotline
Hamilton Public Health COVID-19 Hotline offers translation services in multiple languages:
COVID Hotline 905-974-9848
Other trusted resources:
Translated COVID-19 information and materials are available in multiple languages. Topics include: testing, self isolation, handwashing, mask wearing, physical distancing, hand washing and vaccinations.
The following translated COVID-19 messages are available for use in our community.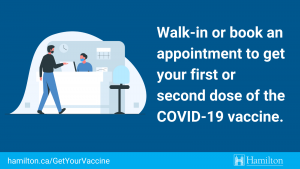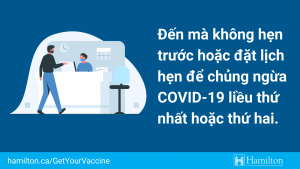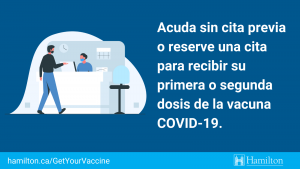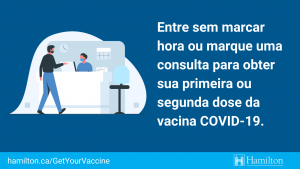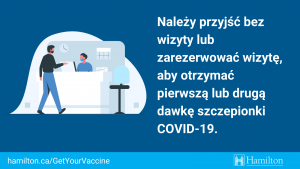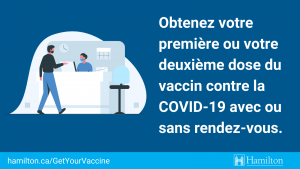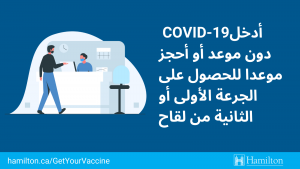 Updated on Friday, October 08, 2021.