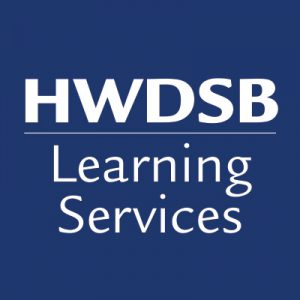 The Ministry of Education has launched Learn at Home, a new online portal that provides resources for families so that students can continue learning while schools are closed. 
HWDSB continues to review many additional online resources that support the Learn at Home initiative. Below is a list of resources that cover a range of grades and subjects that may be helpful for students and parents during this time. It is important to note that these online resources are not mandatory or graded and are meant for families to use as resources to support independent learning while students are at home.  
You can also access our Learning4Success page. This page is a digital initiative of HWDSB Specialized Services created in response to the COVID-19 school closure. Here, you will find meaningful learning tasks for families to use with their child at home. These learning tasks are designed for children with Autism Spectrum Disorder or a Developmental Disability who are on a modified or alternative program at school. All tasks use items commonly found at home.
We know these are challenging times for students and families, and we are committed to working with the Ministry of Education to support you during this unprecedented interruption to student learning. 
Accessibility and Special Education Supports
Special Education
​
| | |
| --- | --- |
| | Meaningful learning tasks for families to use with children who have Autism Spectrum Disorder or a Developmental Disability, and are on a modified or alternative program at school. All tasks use items commonly found at home. |
|   | Parent Guide for Deaf and Hard of Hearing Students in Distance Learning. This guide answers some commonly asked questions and recommends resources to support your child's auditory learning at home. |
iPad
iPads are great learning tools that are used universally in classrooms to support student learning. Understanding many of the basic features of the iPad is a great place to start supporting student learning using technology.
The iPad has many built in Accessibility features that help to support the use and functionality of the iPad for all students.
Laptop/Desktop
The Centre for Success team also supports students with Laptops/Desktops in addition to iPads. This page will provide an overview on assistive technology tools available on Laptops/Desktops.
Google Read/Write Keyboard for iPad/Laptop
Read & Write Keyboard is an alternative keyboard that can be enabled on your iPad or Laptop/desktop computer. It offers several friendly tools to help if you're writing emails, creating documents or entering and editing any kind of text.
ClaroPDF Read IRIS
ClaroPDF and Readiris are accessible apps that use Optical Character Recognition (OCR) to convert typed text on a printed paper into text that can be read by the speech recognition tools on an iPad.
Every effort has been made to acknowledge original sources and to comply with copyright law. If cases are identified where this has not been done, please use the Contact Us tab. Errors or omissions will be correcte
Updated on Thursday, July 16, 2020.