Technology
Last updated on Thursday, December 08, 2016.
Tech at Westmount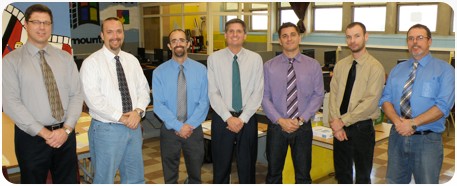 Technological Studies Department Head:
Mr. J. Scarcelli
Technological Studies Assistant Department Head:
Mr. J. Timofejew
Courses offered through Westmount Tech:
► Communications Technology (TGJ)
Students will complete an exciting range of projects such as video productions, digital sound editing, radio broadcasting, graphic design, and photography. Course Projects: Newscast Video, Radio Broadcast, Magazine, Multi-Media Promotion, Photography
Potential Career Pathways: Film production, Graphic Design, TV and Radio Broadcasting, Media, Photography
► Construction Technology (TCJ)
Students will construct and evaluate projects using design instruments, machines and hand tools. The course focuses on cabinet making and furniture construction.
Course Projects: Shaker Table, Jewellery Box, Nightstand, Chair With Writing Desk, Muskoka Chairs
Potential Career Pathways: Interior Design, Construction Engineer, Carpenter, Cabinet Maker
► Construction Technology—Home Repair (TCJ-H)
Students are exposed to various topics associated with the construction of a house. Through various hands-on assignments students will experience wall framing, electrical, plumbing, drywall and painting.
Course Projects: Wall Construction, Rough-in Electrical, Rough-in Plumbing, Drywall, Painting
Potential Career Pathways: Carpenter, Electrician, Plumber, Painter
► Manufacturing Technology (TMJ)
Students will design and create projects using precision machining and measuring tools. Technologies such as welding, casting, and injection-moulding will also be explored.
Course Projects: Ballpeen Hammer, Pen Holder, Dice, Replica Naval Cannon, Working Gas Engine
Potential Career Pathways: Machinist, Tool and Die Maker, Millwright, Welder, Mechanical Engineer
► Transportation Technology (TTJ)
Students will have the opportunity to explore careers in the transportation industry. Students complete relevant projects and learn service procedures in a fully-equipped shop setting.
Course Projects: Custom Audio Installation, Fastener Fabrication, Engine Rebuilding, Vehicle Maintenance Potential Career Pathways: Automotive Technician, Engineering, Auto Customization
► Technological Design (TDJ)
Students will engage in Architectural Design problems using an Automated Design Program (ACAD) that will challenge their creative skills as well as their problem solving abilities. Students will also learn how a house is constructed and how all the different components work together.
Course Projects: Architectural Floor Plans, Elevations, Plot Plans, 3-D Perspective etc.
Potential Career Pathways: Engineering, Architecture, Construction
► Computer Information Science/ Engineering (TEJ, ICS)
Students are introduced to various computer science concepts: fundamental programming, functions of internal and external components, operating systems, networking, and application software.
Course Projects: Basic and Advanced Programming, Networking, Circuits, Computer Repairs
Potential Career Pathways: Computer Engineering, Computer Programming, Networking, Computer Repair, Evil Genius/Super Villain