Staff
What's on this page?
Employee Web Portal
Details| Employee Web Portal | Tutorials: First Time Login | My Web Portal
my.hwdsb.on.ca
My Workplace Online!
No longer will you have to visit the website for pay information, or the intranet for an administrative memo, or FirstClass to buy or sell items to colleagues. Imagine all this information, and more, stored in one location that is organized and user friendly.
my.hwdsb.on.ca features information about/from:
Departments
Staff Directories
Profiling Excellence
Human Resources
Training and In-Services
Healthy Workplace
Resources
New features for staff collaboration
To learn more about myHWDSB, please watch this short introductory video.
my.hwdsb.on.ca Login Instructions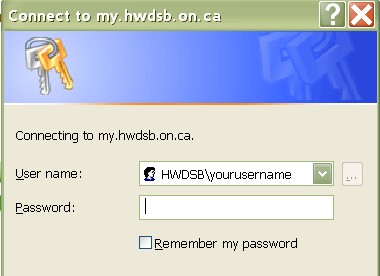 Open Internet Explorer (All features of the Portal work best with Internet Explorer.)
Type: http://my.hwdsb.on.ca in the address bar or click here.
Enter your individual username preceded by hwdsb\

Example Username (same as how you login into your computer): hwdsb\yourusername
Enter your password (same as how you login into your computer) yourpassword

Click OK