Geography
Last updated on Monday, April 12, 2010.
Welcome!  The Geography Department at Saltfleet has developed an extensive network of electronic resources.
Each class has a First Class conference; an area containing lessons, powerpoints, assignments, review sheets and hand-in conferences that students use to achieve success.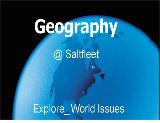 >>View the GeoSaltfleet Geography Show to find out what we are all about.
In grade 9, 'The Geography of Canada' is a mandatory course. It is our hope that students will develop an interest in pursuing a career in Geography, and return every year after!
Check out your course options in Geo10-12Directions
Geography Students use the First Class network extensively: to download homework, catch up on missed lesson powerpoints and worksheets, and to hand-in work electronically.
> Access First Class from home at http://fcinternet.hwdsb.on.ca
Go to advanced, then setup, and set the server as: fc.hwdsb.on.ca then click save
Please direct your questions to:
Mr. T. Pratt, Department Head of Geography
(905) 573-3000 x6190
Or just make an appointment, and come in for a visit!