Stoney Creek Volleyball Tournament
Last updated on Thursday, November 12, 2015.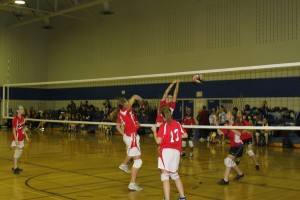 This year we will be celebrating the 15th year of the Stoney Creek Volleyball Tournament.  Every year since this tournament was started it has successfully been run out of the F.H. Sherman Recreational Centre (Dofasco Rec Centre) located on Stoney Creek Mountain.
The first Stoney Creek Tournament was hosted by Billy Green School with all subsequent tournaments, including this year's, being hosted by Mount Albion School.
The Stoney Creek Tournament is a good way to end the H.W.D.S.B. regular volleyball season where student athletes can come together from all over the City of Hamilton to celebrate the sport of volleyball and participate in friendly competition.
This year's tournament will be held on Thursday Dec. 3rd for the girls and Friday Dec. 4th for the boys.
For more information about the tournament please contact Mr. Ellis.