TipOff Expands to all HWDSB Schools
Posted on Tuesday, December 13, 2016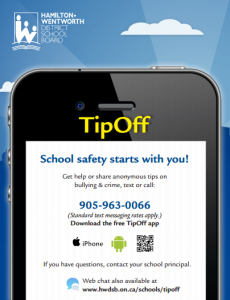 HWDSB is excited to announce that all of its schools will benefit from the latest mobile technology intended to encourage anonymous reporting of bullying and other incidents that may lead to unsafe conditions at our schools.
This service, called TipOff, is a way to receive anonymous messages by text, web chat, smartphone app or phone call. An operator gathers information about the tip and shares it with the appropriate school, where Board and school protocols will be followed. Each sender's phone number is scrambled to preserve their anonymity.
Learn more about TipOff in the flyer and letter below.