Bullying Awareness and Prevention Week (Nov. 20-26, 2016)
Last updated on Monday, November 28, 2016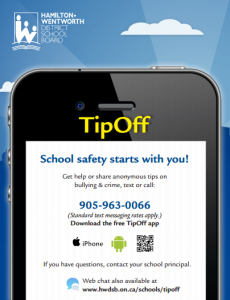 From Nov. 20-26, 2016, schools across Hamilton-Wentworth District School Board recognize Bullying Awareness and Prevention Week.
It's a time when students and staff work build a positive culture where everyone in our district feels safe, welcome and accepted in our schools.
This year, HWDSB is helping its schools foster well-being by expanding the TipOff anti-bullying reporting service to all 105 schools in our district. This is a substantial increase from the 47 schools that opted into the service last year.
TipOff can anonymously receive reports by text message, phone call, smartphone app or web chat – and this information is shared with the school for next steps based on Board/school protocols.
HWDSB also knows that families are important partners when it comes to preventing and reducing bullying. Families may find that their children are being bullied, are bullying others, are witnesses of bullying or may be completely uninvolved.
Families have questions. To help, we would like to highlight a great resource from the Ministry of Education titled Bullying: We Can All Help Stop It. This booklet explains what families can do if they feel that their child is repeatedly being threatened or injured by another child.
How can I help my child deal with bullying?
(from Bullying: We Can All Help Stop It)
By working with the school to help your child or teen handle the bullying problem, you are leading by example and giving a clear message that bullying is wrong.
Regardless of age, you can help by encouraging your child to talk to you about bullying and by giving the following advice:
Stay calm and walk away from the situation.
Tell an adult whom you trust – a teacher, the principal, the school bus driver or the lunchroom supervisor – about what happened or report it anonymously.
Talk about it with your brothers or sisters, or with friends, so that you don't feel you're alone.
Call Kids Help Phone at 1-800-668-6868 or visit www.kidshelpphone.ca