Student for a Day!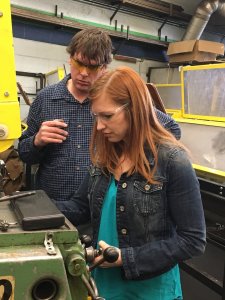 Trustee Dawn Danko put a new spin on the term 'student trustee' as she came to Nora Frances Henderson on April 19th to experience life as a student for the day.
Armed with her iPad, Ms. Danko learned Calculus first thing and the proceeded to some hands on work in Manufacturing (photo above with Mr. Seiler).  Her afternoon was split between two groups of unique learners here at Henderson.  Ms. Danko spent period 3 with a group of Canadian newcomers who are learning English.  Period 4 saw her learning life skills with one of our Self-Contained Special Education classes.
Thank you Trustee Danko – it was our pleasure to host you for the day!
Updated on Wednesday, April 19, 2017.