Inclement Weather
Last updated on Saturday, November 11, 2017.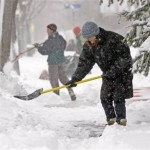 In the event of severe weather, schools may be closed before normal hours. If there is inclement weather, please listen to the local radio stations and plan accordingly. Do not send your children to school on days when the radio has announced that the Hamilton-Wentworth Public Schools are closed. The following radio stations will announce school closures during the mornings so you can find out if school is open or closed:
CHAM 820 AM
CHML 900 AM
K Lite FM 102.9 FM
Oldies 1150 1150 AM
Y95 95.3 FM
Cancellation of School and Board Administrative Operations
The decision to cancel School and Board Administrative Operations is often a difficult call to make. Please be assured that the decision to remain open or to close is always made with the safety and security of our students and staff in mind.
In the event of inclement weather, our Transportation Department advises our carriers to drive predetermined routes to assess the condition of the roads. This is done between 4:00 a.m. and 5:00 a.m. The drivers report back to the carriers and HWDSB begins to receive reports between 5:30 a.m. and 6:00 a.m. In the meantime, our Transportation Department is verifying the weather forecast through our local media outlets as well as contacting the City of Hamilton Works Department to determine where possible what roads have been cleared or when they are expected to be serviced.
The decision to close our schools is made in conjunction with our colleagues at the Hamilton-Wentworth Catholic District School Board based on relevant information at that time.
School Boards across Ontario have varying polices about the cancellation of schools. At HWDSB, the cancellation of transportation is linked to the cancellation of School and Board Administrative Operations. The cancellation of transportation immediately triggers the closure of our schools. For more information on the Cancellation of School and Board Administrative Operation, click here.
Please remember, as a parent/guardian you always have the choice on whether or not to send your child to school.
Hotline # 905.521.2535