Past ESL Special Events
Last updated on Tuesday, January 05, 2016.
Subject Awards and Academic Excellence Awards
November 27, Glendale celebrated the academic achievements of our school population.  Many of our ELL and International Students won awards!  Congratulations to all!
Luncheon of Champions
June 5, Glendale recognized students who have made great improvements over the semester.  The ESL department at Glendale nominated three champions:  Prisca, Kalaab, and Abdul Qadir.  Congratulations!
Niagara Falls Trip
On June 3, the English Language Learners of Glendale visited one of Canada's most famous places:  Niagara Falls, one of the "Wonders of the World"!  We took hundreds of pictures in front of the Falls and even took a "Journey Behind the Falls".  Later we had lunch and enjoyed the action on Clifton Hill.  Luckily the weather was gorgeous!
"Journey Behind the Falls!
Ecohouse Trip
On April 22, Mr. Morgan and Mr. Green accompanied the ESL Geography class to "Ecohouse".  The students saw first-hand how environmentally sustainable living is possible.  Thank you, Mr. Morgan and Mr. Green for bringing your students' learning to life!
Curling!
On March 27, Mr. Morgan's ESL Geography class tried curling…a traditional Canadian sport.  Curling is done on ice and with "brooms".  Thank you Mr. Morgan for showing our ELLs a Canadian way to have fun in winter!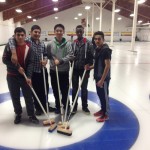 Chinese New Year Celebration!

On February 13, Glendale's International student community went to August 8, an all-you-can-eat sushi restaurant in downtown Hamilton.  We had a wonderful meal together, and later went to Jackson Square shopping mall to visit Nations, the Asian supermarket.  Happy New Year!
Visit to McMaster University
On October 23, the ESL community had a tour of McMaster University.  Glendale students were guided around the campus by university student volunteers.  We saw lecture halls, labs, residences, cafeterias, and athletic rooms.  Our visit ended with a walk in the beautiful natural setting that backs on this local university.
Visit to University of Toronto
On October 17, the ESL community (and friends!) visited University of Toronto.  We had an information tour of the university campus and then enjoyed lunch out at the famous Eaton's Centre mall.  This was a great opportunity for our ELL students who are planning to attend university soon.
Visit from famous Canadian author, Deborah Ellis!
On November 6, Deborah Ellis, author of popular novels The Breadwinner, I am a Taxi, and No Safe Place, among others, came to Glendale to meet our English Language Learners.  Deborah Ellis is a celebrated Canadian author, and Glendale ESL students study her books in their ESL classes.  For this reason, it was a huge thrill and honour to have Ms. Ellis come to speak especially to our ELL population.  Ms. Ellis was welcomed and introduced by student Abubakar Kayiranga, and later thanked by student Haleemah Allaw.  Many students had the opportunity to ask Ms. Ellis questions about her life and her books, and afterwards Ms. Ellis took time to speak to the students individually and pose for many, many photos!  Thank you Ms. Ellis!