Bullying Prevention
What's on this page?
What is bullying?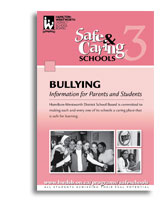 Bullying is typically a form of repeated, persistent, and aggressive behaviour directed at an individual or individuals that is intended to cause (or should be known to cause) fear and distress and/or harm to another person's body, feelings, self-esteem, or reputation.
Bullying occurs in a context where there is a real or perceived power imbalance.
For more information, read the following documents
HWDSB Guidelines
Hamilton-Wentworth District School Board promotes a safe and orderly environment for teaching and learning.
Students who are free from bullying (intimidation and victimization) are able to give their education the full attention and effort needed for success.
A positive school climate, defined as the sum total of all the relationships within a school, leads to the prevention of bullying behaviours.
Bullying prevention and intervention strategies foster a positive learning and teaching environment that supports academic achievement for all students.
Principals have a legislated responsibility to maintain proper order and discipline of pupils in the school, and the organization and management of the school.
Bullying Prevention Programs in HWDSB Schools
HWDSB offers several programs in different schools to support appropriate social skills and bullying prevention and intervention.
Examples of programs recommended to our elementary and secondary schools are:
Roots of Empathy
Second Step
Tribes
It's a Girl's World
Coping With Conflict at School
As well, Peer Mediation is being introduced to all of our JK- 6 schools over the next three year period. Peer mediation is a research based strategy to train students to act as peer mediators to solve problems. Currently, thirty-four schools shave peer mediators, with 11 additional schools becoming involved each year.