Delta heads to Bocce Provincials
Congratulation to Delta's Bocce team that competed at the Special Olympics tournament on Friday May 26th. The team of: Kayla, Amber, Eric, and Ali competed in 3 close games in Dundas, starting with a 7-7 tie, then a 7-6 loss followed by a 7-6 win to boost them to a second place finish.
The second place finish has provided these students the opportunity to compete the Special Olympics Provincial Championships to be held on Monday June 12th and Tuesday June 13th. The championships will be held at Brock University in St. Catharines.
Congratulations to this amazing team and good luck a provincials!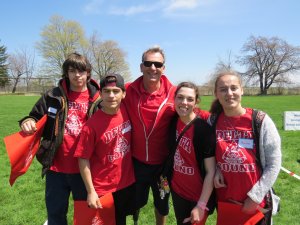 Updated on Thursday, August 03, 2017.