School Council Members invited to School Council Start-up 2017-18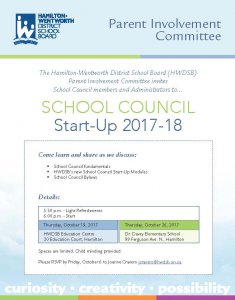 Members of School Councils and school administrators across HWDSB are invited to attend the orientation session, School Council Start-up 2017-18.
Come learn about School Council fundamentals, HWDSB's new School Council start-up modules, School Council bylaws and more!
There are two dates – Oct. 19 and 26 – so please choose the one that fits your schedule. Spaces are limited so please RSVP soon.
Find more details in the flyer below.
School Council Start Up Flyer 2017
Updated on Tuesday, September 26, 2017.