Waterdown's Jobina D'Aloisio earns 2017 Wismer Award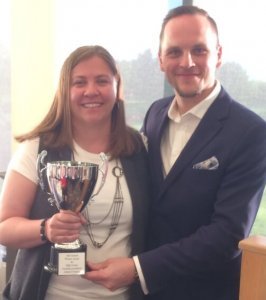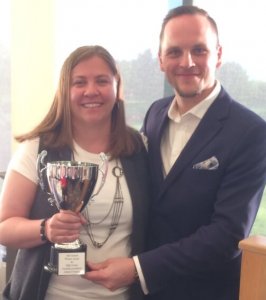 CARLISLE, Ont. (May 30, 2017) – Jobina D'Aloisio was named this year's Hamilton-Wentworth District School Board (HWDSB) recipient of the Wismer Award for High School Coaching Excellence at Carlisle Golf & Country Club on Tuesday, May 30.
D'Aloisio started her coaching career 15 years ago. Since arriving at Waterdown District High School in 2001, she has spearheaded the basketball program and started the Flamborough Fire rep program to fuel basketball at WDHS.
She has coached secondary soccer, badminton and volleyball, but in 2016-17 she focused on basketball, leading the senior girls team to Waterdown's first OFSAA berth for senior girls basketball.
D'Aloisio has earned multiple medals at the local HWIAC level in basketball, volleyball, soccer and badminton. She has coached teams to provincial and national recognition in the U17 girls basketball category.
Now in its 14th year, the Wismer Award for High School Coaching Excellence is given annually to a coach who has made a significant contribution to the Hamilton high school coaching scene, in the community and with student-athletes. It was established in memory of John Wismer, a respected and passionate educator and coach at HWDSB for 33 three years.
Finalists for the HWDSB honour this year included Dundas Valley secondary's Bob Gardiner and Westdale secondary Annette Tonogai. John DiBenedetto from Bishop Ryan secondary was this year's recipient in the Hamilton-Wentworth Catholic District School Board (HWCDSB).
Past HWDSB recipients include: Dave Walters (2016), Bob Wynne (2014), Tish Jeffery (2012), Wilf Reed (2010), Brenda Nelson (Parkside), Gary Banting (Waterdown) and George Knill (2004).
QUOTES
"My awe with Jobina's coaching talent started when I sat with her on the bench while she was coaching Waterdown at a tournament. She called a timeout, quickly outlined a play. Her players executed the play as instructed and Waterdown was able to get the ball back and score.
Until that point, I hadn't realized how much a basketball coach can affect play during a game. They need to be really smart and understand the game fully. Jobina is all that and more. She is that talented, knowledgeable coach that has such a positive effect on her players and on the game in general."
—Former Waterdown and current Westdale Principal Michelle Visca.
"Jobina is the most dedicated, committed, fierce, knowledgeable and passionate teacher and coach I have taught with in my 25-year career. She ensures her students know their goals are her goals, their dreams are her dreams, and she will do whatever it takes to achieve them together.  
She inspires other women by showing them that they can be a mother of three, a wife, a friend, a mentor, a teacher, a coach to several teams, a business woman, and can do it with a huge smile and positive outlook on life."
–Waterdown Physical Education Head Jeannine MacIsaac
Find additional information online at wismerfoundation.org
Updated on Thursday, June 01, 2017.