Families invited to attend Fresh Air Kids Celebration
Posted on Tuesday, March 07, 2017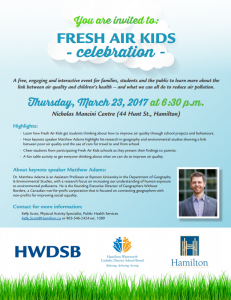 Hamilton-Wentworth District School Board (HWDSB) invites families to a free, engaging and interactive event to learn more about the link between air quality and children's health – and what we can all do to reduce air pollution.
The Fresh Air Kids celebration will be Thursday, March 23, 2017 at 6:30 p.m. in the Nicholas Mancini Centre (44 Hunt St., Hamilton). HWDSB is partnering to present the event with the Hamilton-Wentworth Catholic District School Board and Public Health Services at the City of Hamilton.
The event is an opportunity to hear how Fresh Air Kids gets students thinking about how to improve air quality through school projects and behaviours. Visitors can also cheer students from participating Fresh Air Kids schools as they present their findings to parents.
Keynote speaker Dr. Matthew Adams will highlight his research in geography and environmental studies showing a link between poor air quality and the use of cars for travel to and from school.
Dr. Matthew Adams is an Assistant Professor at Ryerson University in the Department of Geography and Environmental Studies, with a research focus on increasing our understanding of human exposure to environmental pollutants.
To learn more about the event, please contact Kelly Scott, Physical Activity Specialist with Public Health Services, at Kelly.Scott@Hamilton.ca or 905-546-2424 ext. 1309.
Learn more in the Event Flyer.