Cram-a-Cruiser Sets New Local Record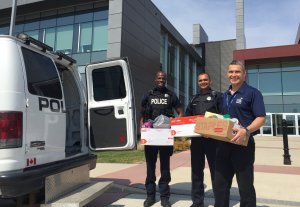 HWDSB students and staff helped set a record for local donations to the Cram-a-Cruiser initiative, in which the community tries to pack Hamilton Police Service vehicles bound for Hamilton Food Share.
Held May 17, the event saw local schools donate 11,774 pounds of food – breaking last year's record of 11,325 pounds.
"On behalf of the Hamilton Police Service I would like to thank all of you for your assistance and participation in this worthy project," said Sergeant Jon Alsbergas, Youth Services Coordinator in the Community Mobilization Unit. "Hopefully we will do even better next year."
A special thanks to the Education Centre and HWDSB schools involved: Cecil B. Stirling (430 pounds), Cootes Paradise (487 pounds), Education Centre, Elizabeth Bagshaw, Lisgar, Memorial City, Millgrove, Mount Albion, Mountain secondary, Pauline Johnson, Rosedale, Saltfleet secondary, Strathcona, Vincent Massey alternative programs and Westmount secondary.
A big thanks to our top school donors – Lisgar (1,965 pounds) and Pauline Johnson (1,118 pounds).
Director of Education Manny Figueiredo said this was a great example of HWDSB school and administrative communities coming together to help our neighbours in need.
Jim Martin, a staff person at Hamilton Food Share, said that this year's campaign also collected enough cash donations to receive the full matching contribution of $40,000 from the Pinball Clemons Foundation.
"This is a new record for Cram-A-Cruiser in Hamilton and we couldn't have done it without you and the Hamilton Police Services," Martin said.
Updated on Friday, May 19, 2017.