Bennetto embraces We All Belong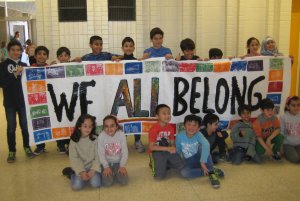 Bennetto Elementary School staff and students have been working conscientiously to help the school reflect its diverse population, including recent newcomers. One step they took was to use a Hamilton Community Foundation grant to work with the artistic leadership of Centre 3 art studio to produce an inclusive banner emphasizing that "We All Belong." This was a visual way to give voice to the school's English Language Learners. The school is also exploring how to ensure all students, including newcomers, see themselves as active participants in all aspects of the curriculum.
Updated on Tuesday, April 25, 2017.