Meet the Staff – Tomorrow Night
Our annual Meet the Staff Night is taking place on October 5th from 5pm – 7pm.  Pizza will be sold on a first come, first serve basis for $2 / slice.  Costco Membership services will also be on-site from 5pm – 7pm offering refreshments and peanut-free snacks.  A family survey that Parent Council has put together will be available for you to complete in each of your children's classroom (only 1 survey per family needs to be completed).  Parent council will be setting up a table at the front of the school for you to learn more about the role that they play in helping Bellmoore be the best that it can be for our students.  If interested in purchasing spirit wear, there is a table set up near the library for available pricing and sizing.
See you tomorrow night!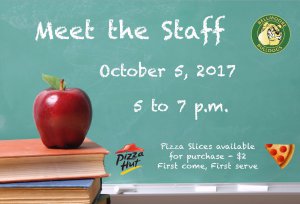 Updated on Wednesday, October 04, 2017.