Featured Athlete of the Week – Eric Justason
Dundas Valley, like all schools, has no shortage of athletes that are worthy of being selected for an athlete profile. To be chosen among many possible excellent choices speaks to the quality of whoever is chosen. Eric Justason embodies all that is good about being an athlete. Although he is an outstanding athlete, he also has quality characteristics that make him an even better person.
Athletically, around the school, Eric is a well rounded athlete. This grade 12 student participates in football, water polo, swimming, cross country and track and field. He has competed at the OFSAA level in swimming, cross country and track. He was one of the reasons that DVSS won their first boys water polo city title this year. And, on the football field, he was a two way player who looked forward to gaining the hard yards on the ground and challenging himself to defend other teams' strongest threats.
Around the school, Eric is always more than willing to lend a hand. He is an excellent role model for younger students. He works hard to achieve good grades and gets involved in the school community. He was a member of the school Leadership Camp. He was also a valuable contributor as a peer leader in the school's special n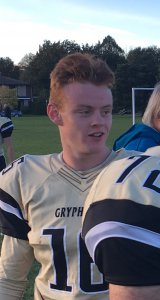 eeds program. Beyond high school he has his sights set on University and then a career as a teacher.
Updated on Monday, February 26, 2018.