HWDSB volleyball all-stars clash vs. HWCDSB on Tuesday in Ancaster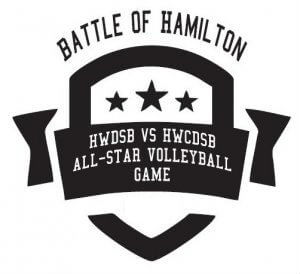 HAMILTON (December 15, 2017) – The top boys' high school volleyball players across the city will battle in the fifth annual HWDSB vs. HWCDSB Boy's All-Star Volleyball Game, hosted this year at Ancaster High School on December 19.
The evening will feature the top players in both the HWDSB and HWCDSB leagues with separate junior and senior games. The junior game kicks off the action at 6:00pm with the senior game going at 8:00pm.
HWDSB's top senior age players representing the school board will be: Ancaster HS: Liam Kavoukis, Sabur Wahidi, Jalen Johnson-Schmidt; Dundas Valley SS; Louis DiSalvo, Ethan Goodale; Guido de Bres CHS: Edward Lof, Doren Togeretz; Hamilton District CH: James Billi, Sam Cooper; Waterdown DHS: Mitchell German; Westdale SS: Julian Rogers, Maurice el Helou; Westmount SS: Jake Vinken.
Lining up in the junior game for Team HWDSB will be the following players: Ancaster HS: Oliver Sant; Glendale SS : Nathan Steeves, Hetem Hetaj; Guido De Bres CHS: Mitchell Jans; Hamilton DCH: Bridgely Vandermark, Vaunn Smith; Saltfleet DHS: Thomas Matsell, Nathan Toltl; Sherwood SS: Quinn Horton, Ryan Moggach; Westdale SS: Jan Dick, Wyatt Lightfoot; Westmount SS: Hunter Gale, Zack Hammond, Bayne Timofejew.
Coaching the senior squad will be Ancaster's Michael Schurer and Brad Heidbuurt from Hamilton District Christian. On the junior side, Westmount's Paul Guagliano and Westdale's Cindy Myers have the privilege of leading the team on Tuesday.
The Public board holds a 3-1 all-time advantage in senior all-star play while the Catholic board has a 1-0 lead in junior play earning the inaugural junior all-star contest last fall.
In the spring the two school boards will once again face off against each other in the HWDSB vs HWCDSB Girls Volleyball All-Star game; date and time TBA.
Want to Go?
What: Battle of Hamilton – HWDSB vs. HWCDSB All-Star Volleyball Game
Who: Top senior & junior boys high school players from Hamilton (HWDSB & HWCDSB boards)
When: Tuesday, December 19, 6:00pm (junior); 8:00pm (senior)
Where: Ancaster High School (374 Jerseyville Rd W, Ancaster, Ontario)
Admission: $3 for adult, $2 for a student
Stay Connected with HWDSB Athletics
For schedules, results and news visit: http://www.hwdsb.on.ca/athletics or follow us on Twitter @HWDSB_athletics
Updated on Friday, December 15, 2017.