Featured Athlete of the Week – Alyssa Hartman – Hamilton District Christian
Since she walked through the door, grade 11 student Alyssa Hartman was involved in athletics at Hamilton District Christian High. Alyssa is key to our basketball, volleyball and soccer programs. In grade 10 she was a part of the senior girl's basketball team that qualified for OFSAA, and a member of two OFSAA bronze medal soccer teams in her grade 9 and 10 years. No matter what sport she plays, Alyssa shows good athletic instincts, great coachability and leads by example. This past fall, Alyssa led the senior girls basketball team in rebounds, steals, and assists while becoming the second top scorer.  She was key to the team's full court trap, and she worked equally hard on defence as she did on offence.  As the coaches go-to defender, her work ethic shows she enjoys it. Along with her physical skills, Alyssa demonstrates the ability to think the game and can recognize opposing teams strategy changes and readily suggests effective adjustments.  Finally, Alyssa shows exceptional sportsmanship – she is not selfish, she shows care for her teammates, and she loves to celebrate others successes. It is a joy and privilege to have Alyssa as a part of HDCH Athletics, and we look forward to her contributions in the future!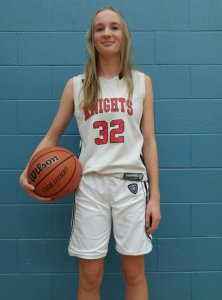 Updated on Wednesday, December 06, 2017.