Featured Athlete of the Week – Ben Woodhouse – Sherwood
Posted on Wednesday, April 26, 2017
Ben Woodhouse was selected as Sherwood's Feature Male Athlete for the 2016-2017 school year.  Ben is currently in grade 11 at Sherwood.  Ben is one of those special athletes who only comes around every ten years.  He is an athlete who excels at any activity he chooses due to his athletic ability and he makes competing in any sport look efficient and effortless.
He may be of smaller stature, but Ben plays like a 6'3" 200 lb. athlete in both volleyball and hockey.  His competitiveness, high sports IQ, and humble nature make him a coach's dream.
Ben has played hockey, volleyball, co-ed volleyball, ultimate Frisbee and badminton at Sherwood.  Hockey is one of Ben's passions and is one of the many sports he excels at.  Many of his coaches have stated that "Ben once again put the team on his back to earn a victory".  He also captained the senior boys' volleyball team to a successful season as the team's leader and setter.  His calm demeano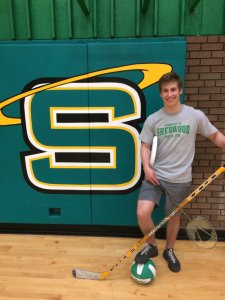 ur and awesome skill set helps to raise the level of play of those around him.
Ben has also used his strong leadership skills and skills to volunteer with younger aspiring hockey players at The Personal Best Hockey camp along with volunteering his time at Sherwood's grade 7 and 8 volleyball clinic.
Ben has garnered much interest from many junior hockey teams through playing triple AAA hockey for the Brantford 99ers and the Sherwood Saints school varsity team.  Ben has a promising future ahead of him and all of his coaches are looking forward to seeing him reach his full potential.