Featured Athlete of the Week – Reid Vogel – Dundas Valley
Posted on Wednesday, February 22, 2017
Reid Vogel is the poster child for what a student athlete should be.  In short – he is athletic, academic, well balanced, focussed and friendly.
Athletically, Reid is a year round team athlete at DVSS. He is a both a leader and a great player on the senior volleyball team, the Varsity Hockey team and the Varsity Soccer t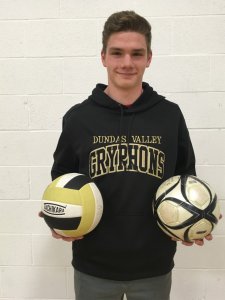 eam. He is also an accomplished racquet sports enthusiast.  Reid is a great learner and is also dedicated to health and fitness. Reid has had devoted coaching at school, from the likes of Dan Popovich, Scott Kilby, Steve Badger, Bob Waterhouse and his dad Chris.
Reid credits his dad Chris for his love of soccer and volleyball and his mom Christine for his passion for hockey.  He has been playing all of these different sports since the age of 6. He comes from an active family where sports is a 24 hour family affair. Reid's twin sister Megan and younger sister Sara and brother Noah are all equally active. Perhaps the hardest worker in the family is the minivan.
Off the field, Reid enjoys math, science and hanging out with friends. He enjoys travelling, especially the trip he made to Ireland last spring and looks forward to visiting the Netherlands someday.
With graduation coming up this year, Reid has his eyes set on a future i
n Engineering either here at home at McMaster perhaps elsewhere in Ontario. While there he is interested in pursuing Varsity Athletics if time permits.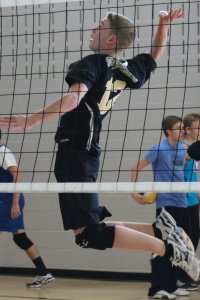 The hardest part of profiling Reid was getting him to say anything. He is incredibly humble and does not seek the spotlight. Whether he likes it or not, his willingness to work hard, his skill across the board and his dedication to teammates shines a light on him.