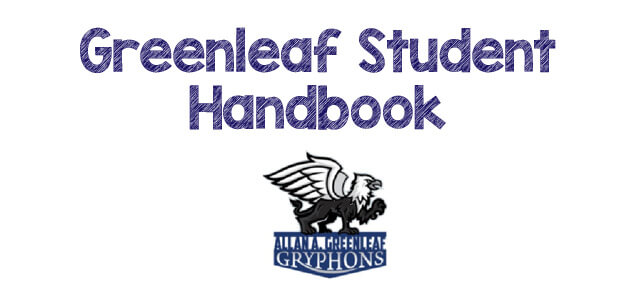 2018-2019
Mission Statement
At Allan A. Greenleaf School, our mission is to build a learning community of educators, students, and parents where children can become responsible, knowledgeable, productive, caring citizens committed to lifelong learning.
Virtues- Character Builds
Allan A. Greenleaf is a Virtues Project School.
Our Virtues and Character Builds is intended to reduce time spent on classroom management issues, focus the school on "bell to bell" teaching, and improve learning and achievement for our students. All students deserve an education of the highest calibre in a friendly, safe environment. We will demonstrate that all members of our school community share the same high expectations, and that these expectations extend well beyond the classroom: into the halls, the yard, and the community. By adhering to the Virtues outlined below we will achieve a high level of clarity, consistency, and success.
Assertiveness
Caring
Cleanliness
Compassion
Commitment
Confidence
Consideration
Cooperation
Courage
Courtesy
Creativity
Detachment
Determination
Diligence
Enthusiasm
Excellence
Flexibility
Forgiveness
Friendliness
Generosity
Gentleness
Helpfulness
Honesty
Honour
Humility
Idealism
Integrity
Joyfulness
Justice
Kindness
Love
Loyalty
Moderation
Modesty
Orderliness
Patience
Peacefulness
Perseverance
Purposefulness
Reliability
Respect
Responsibility
Self-Discipline
Service
Tact
Thankfulness
Tolerance
Trust
Trustworthiness
Truthfulness
Understanding
Unity
The Virtues Project complements the ten Character Attributes identified by the Hamilton-Wentworth District School Board.
Acceptance
Empathy
Responsibility
Caring
Honesty
Trustworthiness
Citizenship
Integrity
Courage
Respect
For further information, please visit www.virtuesproject.com and www.hwdsb.on.ca, following the Character Builds links.

Communicaton
Education is a shared responsibility between the school and home. When parents and school staff work together, our students truly benefit.
Effective, positive and respectful two-way communication is essential. Throughout the school year, we shall communicate with parents in many ways. The agenda is the most important way. Monthly school newsletters are posted on our school website at http://schools.hwdsb.on.ca/aagreenleaf/.  Once on our website you can subscribe to have the newsletter emailed directly to your in-box.  This newsletter is a celebration of our accomplishments and a promotion of upcoming events. Sometimes, you will receive phone calls or notes with positive messages, or with concerns that we need to address together. Parent involvement in the school is an essential component of any effective school. We invite you to talk with staff, become a classroom volunteer or participate in School Council.  By working closely together, we can best ensure that the needs of your child are being met.
Synervoice
We now have the technology available to phone all families in our school to leave messages of importance. This service will be used periodically throughout the school year, to remind families of important upcoming events etc.
School Council and Fundraising
We encourage the families of Greenleaf School to participate with the School Council. Meetings occur once a month in the library and are open to the school community. Meeting dates are on the school newsletter each month. School Council Executive elections take place in September each year. It is the policy of the Hamilton-Wentworth District School Board to establish and to maintain a School Council in every school of the Board, in order to promote and improve student learning through ongoing valued parental, staff, and community input.  The School Council shall act in an advisory capacity to the Principal and to the Board and/or senior staff in accordance with the policies and procedures of the Board and of the Education Act and Regulations. School Council is a body made up of parents, a community member and staff.  Although nominations and elections for School Council members are held in September, all School Council meetings are open, and parents are welcome to attend.  From time to time the School Council or the school staff will conduct fundraisers to help defray the costs for equipment, technology, student activities and field trips. Door to door canvassing is discouraged. Although fundraising can be a good experience for students, participation is always optional. We may offer special lunch days this year.  We will report where the profits from any of these activities will be applied.
Parent Volunteers
We consider our parent volunteers a special resource.  Parents and community members are encouraged to help in the classrooms, assist in the library, and participate on committees and on School Council as well as help with extra-curricular activities.  Those wishing to help as a volunteer should see our school Secretary for details about the process of becoming a volunteer.
Vulnerable Sector Screening
Hamilton-Wentworth School Board's Volunteer Policy has been reviewed and revised! Any volunteers working with children out of the sight lines of a teacher must have obtained a Vulnerable Sector Screening Report. This report must be renewed every 3 years and each year in between a "Declaration" must be signed. To obtain such a report an adult must pick up an application form from the school office and take it to the Hamilton Police Services Headquarters on King William Street in Hamilton. Our office will also give you a form that states that you are asking for the information in order to volunteer in a school, which reduces the cost! It takes up to 30 days for the report to be prepared. Once you have obtained the report, a copy will be filed at the school. If you are volunteering, you MUST get a Report as soon as possible, so that you can take advantage of opportunities as they arise. You will not be permitted to attend school trips without a Police Check.
Healthy Eating at HWDSB
HWDSB's Nutrition Policy is based on the Eating Well with Canada's Food Guide and the Ministry of Education's nutrition guidelines. Visit this Policy at: www.hwdsb.on.ca and refer to Policy 7.20. This policy dictates that there are 10 pre-scheduled days that schools may allow students to bring foods that don't meet the Ministry of Education's acceptable foods list.  Please do not bring in foods for birthdays or special occasions without consulting the teacher.
Tobacco Control Act
This is a reminder that it is illegal for anyone to smoke anywhere on school property. This includes in your own car, if your car is on school property.

Attendance, Absences and Lates
Good school attendance and punctuality are important to maximize school achievement and are good habits to develop. Education law states that children of compulsory school age are required to attend every school day unless excused.  A child may be temporarily excused with the approval of the school principal on written request from the legal guardian. Parents must ensure their child(ren) attend school as required and provide the school reasons for absence. Family holidays during the school year are not encouraged.
Safe Arrival Policy
Please call the school office before 8:30 a.m. if your child is going to be absent or late. The voice mail can take your message 24 hours a day. Please supply us with the student name(s), class and reason for absence/lateness. If we have not been informed of an absence by a parent we must call work and home numbers to ensure that the student is safe. Student records will show an unexplained absence if a note is not received and we have been unable to contact parents.  Late students must report to the office before going to class to have their attendance recorded.
It is the legislated responsibility of parents to:
Provide current telephone contacts such as: home phone number, work number of both parents, phone number of caregiver, and emergency contact numbers for our student information file,
Update the information during the school year,
Communicate with the school, prior to the start of school in the morning or afternoon, when the child will be absent or late for any reason,
Provide written permission for their child to leave the school during the day.
We are not permitted to release any student to a person other than their parent/guardian prior to the end of the instructional day. If a parent must have their child released from school early they are required to report to the office for assistance. We would ask that parents avoid picking children up early whenever possible as it is a definite disruption to the learning in the classroom.
Pick-up and Drop Off
Pick-up and drop off at the front of the school is reserved for the school bus and taxis. Parents/Guardians shall not drop off students in the no-stopping zones in front of the school. To ensure student safety, children shall not be dropped off in either of the staff parking lots.
Visitors to the School
It is the policy of the Hamilton Wentworth District School Board that all visitors check in with the office before entering the school.  Parents and others entering Allan A. Greenleaf School will be required to sign in at the office and receive an identification badge before entering any other part of the building.  Any adult not wearing an identification tag in the building will be stopped and escorted to the office.  This policy is in place to protect the safety of your children. Please wait for your children outside at dismissal time as this policy is in effect throughout the entire school day including drop-off and pick-up.
Student Messages
Our office staff frequently receive phone-calls from parents to pass messages on to students.  With many students in our school this increasing practice has caused a number of issues.  For the following reasons, we would ask that parents not call the school to request the office to pass messages onto students except in the case of an emergency.  Frequent interruptions to classes disrupts the learning of all students.  We have no way of identifying the caller, with a variety of custody arrangements and limitations we could be in a position of passing on a message from an individual who should not have contact with a student.  Given the extremely busy nature of our school office, we cannot be certain the message will reach the student, despite our best effort.  Also, giving an incorrect message could result in a dangerous situation for our students.
Fire Drills / Emergency Evacuation / Lockdown
Fire Drills are conducted three times during the first half of the year and three times during the second half of the year.  Detailed plans for Fire Drills, Lockdowns and Emergency Evacuations are shared with all staff.  The Fire Plan is posted in every room, will be taught to students before the first Fire Drill and reinforced throughout the year.  A Lockdown Drill has been developed, shared with staff and students and will be reinforced and practiced throughout the year.
Valuables
Sometimes students bring special, fragile or expensive items to school only to become disappointed when they are damaged or lost. The best prevention is to leave such items at home. We will try our best to help students locate missing belongings; however, the school cannot be responsible for damaged or lost items.
Lost and Found
Please parents clearly label all clothing items, lunch pails, boots and shoes so that we can help locate their owners. We recommend that parents and students regularly check the school lost and found box for missing items.
Lockers
Lockers are provided for the convenience of students.  To avoid the many problems associated with some locks, we require that students (grade 6-8) use combination locks only and we suggest a high quality lock, such as DUDLEY be used.  Students should not share their combinations with others. Teachers will attempt to maintain a secure record of combinations in the event that a student forgets their combination.  Lockers remain school property, and will be inspected as necessary to maintain a clean and safe school environment.  In cases of suspected wrongdoing, lockers and their contents may be searched using Board established protocols.
Severe Weather / Emergency School Closure
Learn more about severe weather.
Nutrition Break Guidelines and Expenctions
Nutrition Break 1  10:45 – 11:25 am
This break is split up into 20 minutes outside, 20 minutes inside, consuming a nutritious, balanced snack. All students will stay at school throughout the first nutritional break.
Nutrition Break 2  1:05-1:45
This nutrition break is set aside as a lunch break. During this break, some parents may choose to give permission to allow their child to leave the school daily. This privilege is only for students in grade 6,7 & 8. A list of these students will be kept in the office. Students who leave the school must have a note and sign out/back in, at the office.  Parents assume full responsibility for their child's supervision and safety if they leave school property during this break.
In case of rain or severe weather conditions, students will remain in their lunchroom for the entire nutrition break.   All food must be eaten in the lunchroom and not on the playground.  Supervision is provided by teachers and EA's outside on the playground and rotating from classroom to classroom. In the primary and some junior classrooms, lunchroom helpers volunteer to assist teacher supervisors. Students are to cooperate with lunchroom helpers and supervising staff.
 Playground Rules and Expectations
Students receive teacher supervision fifteen minutes before and after school and at all nutrition breaks. Students will stay within the designated school playground boundaries.  Playground games and activities are to promote positive and safe social interaction. Students will demonstrate behaviour that is consistent with our Code of Conduct:
Students will come prepared with appropriate seasonal outerwear, i.e. boots in the winter with a change of footwear for indoors
Students will use the washroom prior to going outside
Students will not throw snowballs, stones or other non-recreational items
Skateboards, scooters and rollerblades will not be used on school property
Students will line up, enter and exit through their designated grade doors at all times
The field is intended for ball games and running activities. Ball games such as foursquare and basketball are permitted on the blacktop in designated areas. Wall ball is not permitted. In the case of a blacktop, "walk and talk" recess, students are required to stay on the blacktop and off the field, with no equipment.

The Ontario Curriculum
The expectations identified for each grade describe the knowledge and skills that students are expected to develop and demonstrate in their class work, tests and various other activities on which their achievement is assessed. Teachers will use their professional judgment in deciding which instructional methods will foster the learning described in the expectations.  The complete curriculum is available for review at the Ministry of Education and Training's website at www.edu.gov.on.ca.
Reading at Homes is Important
It has been proven that reading to your child at home is one of the best things you can do to improve your child's reading and listening skills. Literacy starts at home and parents can develop their child's interest in reading by setting an example themselves by reading a variety of materials. Also, build time into life's busy schedule to include visits to the local library with your family.
Field Trips and Excursions
Field trips are organized to enhance the curriculum and, as such, are part of the school program.  Notice about all class trips will be sent home in advance. In order for your child to participate, written confirmation is required to ensure that parental permission has been granted and that parents are aware of the details of the trip.  The cost for such trips is kept as low as possible and it is expected that all students will participate.  Subsidies are available upon written request to the office.  Students who, with parental support, have chosen not to participate in a trip or activity that takes place during the school day are still expected to attend school, as alternate activities will be provided. The School Code of Conduct is in effect on all school trips.
Homework
Homework can provide practice that reinforces classroom learning and provide opportunities for independent study, research and creative thinking. Please note that work completed at home is not used by the teachers to assess learning. However, homework is a key skill which can be tracked, monitored and reported on in the Learning Skills section of the Provincial Report Card.  Parents can help their children by arranging time, a quiet work place and by seeing that assignments are completed. Students in a K-8 school receive varying amounts of homework, according to their grade level.
Report Cards
Report Cards are issued following the process outlined in the Growing Success: Assessment, Evaluation and Reporting in Ontario Schools 2010.  This document is available on the Ontario Ministry of Education website.  Ontario Schools will provide a general progress report in November.  The first formal Report Card will be made available in February and the second formal Report Card will be made available in June. Please take the time to share and complete the final page with your child.

Life-Threatening Allergies / Nut Sensitive School
We have several students with life threatening allergic reactions to nuts, peanut butter and nut products. The safety of all our students is very important to us. For this reason, Allan A. Greenleaf is a Nut Sensitive School. If touched or eaten, foods containing even a small amount of nuts may be life threatening to those students with allergies.  We ask that parents not send food containing peanuts or nut products in their child's lunches.  TREE NUTS ARE ALSO PROHIBITED!! Please read the labels carefully.  Products such as WOW butter are also not permitted.
Medical Emergency
Please provide reliable emergency contact information on the Student Information Form sent home at the beginning of the year. We need to be able to reach someone in case of an emergency. If, during the year, you change your address, phone number, emergency contact, or place of employment, please ensure that such information is updated with the school office administrators. If we are unable to make contact with a parent or emergency contact and our First Aider staff feel it is deemed necessary, we will contact 911 for an ambulance.
Medications
Please administer medication at home where possible. Where medication must be administered by school personnel, it will be kept in the office. Prescription or non-prescription medication requires completion of two authorization forms signed by your physician before medication can be administered. The forms for both prescription and non-prescription medication are available at the office and must be renewed each year even if the prescription has remained the same.
Physical Education Dress Code and Footwear
Grades 5-8 students are required to wear shorts and T-shirts to Phys.-Ed classes. We encourage students to purchase a school tee-shirt for PE and for extra-curricular activities they may be involved in.  All students must wear non-marking running shoes for physical education class for student safety.                                                    
Dogs on School Property
Under Municipal By-Law that is clearly posted on our property, dogs are not permitted on school property.  We would ask for your support in not bringing your dogs onto school property for the safety of all of our students.  Service dogs are exempt from this.
Pediculosis (Head Lice)
Anyone, regardless of cleanliness, can get head lice, and primary children who play closely together are particularly susceptible. Parents are asked to check their children regularly for itching and the presence of small whitish nits (eggs) fastened tightly on the hair shaft near the scalp, and report any occurrences to the school. Parents will be notified if anyone in their child's classroom has reported head lice so that they can monitor the situation. The Health Department does not become involved in classroom screenings. If your child has lice, several good medications are available without prescription. The HWDSB has a policy on pediculosis. If you have questions regarding head lice, please contact the Healthy Kids Line (905-546-3596).
Learning and Teaching Environments in Schools:
The use of some technology has also brought challenges related to safety, privacy, and disruption in our schools. The Board recognizes that unacceptable use of technology can be disruptive and intrusive in the classroom instruction and interfere in the day-to-day operations of the school. As well, academic integrity can be compromised through the inappropriate use of technology.
The HWDSB expects that all persons in school can support a positive teaching and learning environment by adhering to the following expectations:
Personal electronic devices must be in silent mode in instructional areas during the instructional periods, and are not to be used in the classroom setting by students or staff
Teachers may, however, allow music to be used to accommodate learning styles of students
Personal electronic devices are not allowed in examination rooms or areas
The use of personal electronic devices should reflect expectations in HWDSB policies: e.g., Code of Conduct, Respectful Working and Learning Environments, Bullying Prevention and Intervention, Equity Policy, Harassment Policy
The use of personal electronic devices in the school setting should reflect the Board's core commitments of respect, integrity, and accountability
Teachers may confiscate, and securely store, personal electronic devices until the end of the school day if the devices are being used inappropriately. If inappropriate use continues, then the school's Code of Conduct applies.
Responsibility for Personal Electronic Devices:
Anyone carrying a personal electronic device on to Board premises, including school buses, or at Board sponsored events, will comply with all of the requirements of this policy and associated procedures
The secure storage of these devices is the sole responsibility of the owner/user;
HWDSB does not accept responsibility for lost or stolen personal electronic devices; students bring the devices to school at their own risk
During the school day the use of cell phones, text messaging, and electronic devices is restricted in instructional areas.
During classroom instruction, all cell phones and electronic devices must be in silent mode and secured out of sight.
Cell phones may not be used by staff for personal use while on supervision duties.
Staff whose cell phones are related to their work, eg. custodial staff, managers, etc, may have the cell phones on if they are not in the instructional setting.
Volunteers may have a cell phone on in silent mode however, they must step outside the classroom to answer/return calls.
Staff in the classroom who are required to have a cell phone to facilitate emergency outgoing calls should verify daily that their phones work in these classrooms.
Teachers may give permission for these devices to be used by students within the school setting for school-related events.
The electronic transmission, or posting of photographic images of a person, or persons on school property, at school events, and during school activities and/or hours, is prohibited without the permission of the person or persons being photographed, the Principal or designate, and where the student is below the age of 18 years, the consent of the parent/guardian.
Personal electronic devices may not be taken into examination rooms.
The Principal may authorize use of these devices on certain occasions, eg. to photograph or video a graduation.

Standards of Behaviour, Respect, Civility, and Responsible Citizenship
The Provincial Code of Conduct sets out the following Standards of Behaviour (Part XIII of Education Act)
Dress Code
In accordance with the Safe Schools Act Section 302 (5) and Policy No. 7.12 of the Hamilton Wentworth District School Board the following Dress Code has been established for the 2016-2017 school year.  It is a requirement that we review our dress code every three years.  This was last done in 2015.  It is the responsibility of students to dress in a neat, safe and sensible manner suitable to a learning environment.  The Hamilton Wentworth District School Board has an Appropriate Dress Policy to ensure that students and staff can work and learn in an environment that is safe and respectful.
General Requirements:
Outdoor clothing is not to be worn in class
Clothing that is worn must allow the child unrestricted participation in all activities, including sitting on the floor
Clothing imprinted with symbols of alcohol, racism, anti-school sentiments, drugs, sex, religious discrimination or with obscenities is unacceptable
Clothing that reveals underwear, bra straps, navels, midriffs or cleavage is not appropriate for the learning environment. Straps on shirts or dresses must be wider than two fingers and covering bra straps
Revealing shorts, skirts and tops are not acceptable school dress
Hats and sunglasses are not to be worn inside the school
Bandanas are not permitted
WITHIN THE HAMILTON-WENTWORTH DISTRICT SCHOOL BOARD a positive school climate promotes the tone, or prevailing attitude, which encompasses the physical attributes of the school as well as the levels of order, satisfaction, and productivity. HWDSB is committed to promoting a positive school climate that is inclusive and accepting of all students and helps to promote the prevention of bullying.   Bullying is defined as aggressive and typically repeated behaviour by a student where:
Students violating the dress code will be required to change their clothes. In some cases, changing into gym clothes may be an acceptable solution. In other cases, the child may be sent home to change. Persistent non-compliance with this dress code will be addressed through our progressive discipline procedures.
The behaviour is intended, by the pupil to have the effect of, or the pupil ought to know that the behaviour would be likely to have the effect of,
Causing harm, fear or distress to another individual, including physical, psychological, social or academic harm, harm to the individual's reputation, harm to the individual's property, or
Creating a negative environment at a school for another individual, and
the behaviour occurs in a context where there is a real or perceived power imbalance between the pupil and the individual based on factors such as sex, strength, age, intelligence, peer group power, economic status, social status, religion, ethnic origin, sexual orientation, family circumstances, gender, gender identity, gender expression, race, disability, or the receipt of special education
Responding by Board Employees to Incidents That May Lead to Bullying
All Board employees (administrators, teachers, and non- teaching staff including staff in social work, child and youth, psychology, and related areas, educational assistants, early childhood educators etc.) who work directly with students must respond to any inappropriate and disrespectful student behaviours, including bullying, that is likely to have a negative impact on school climate, if it is safe to do so, in the employee's opinion. (Education Act Part X111, 300.4) Responding may include: asking a student to stop the behaviour, naming the behaviour and explaining why it is inappropriate and/or disrespectful, and asking the student to correct the behaviour (e.g. apologize for a hurtful comment and/or to rephrase a comment). Please note, HWDSB employees are not required to respond to incidents when, in their opinion, responding would cause immediate physical harm to themselves, a student, or to another person.
The policy of "Zero Tolerance" was revised by the Ministry through Bill 13, Accepting Schools Act, whereby all Board employees respond to incidents by investigating, utilizing Progressive Discipline, Restorative Justice Strategies, Suspension and Expulsion, when deemed appropriate.
All Members of the School Community Must:
Respect and comply with all applicable federal, provincial, and municipal laws
Respect differences in people, their ideas, and their opinions
Treat one another with dignity and respect at all times, and especially when there is disagreement
Respect and treat others fairly regardless of, for example race, ancestry, place of origin, colour, ethnic origin, citizenship, religion, gender, sexual orientation, age or disability
Respect the rights of others
Show proper care and regard for school property and the property of others
Seek assistance from a member of the school staff, if necessary, to resolve conflict peacefully
Respect all members of the school community, especially persons in positions of authority
Respect the need of others to work in an environment that is conducive to learning and teaching
Not swear at a teacher or at another person in a position of authority
PARENTS: Parents play an important role in the education of their children, and can support the efforts of school staff in maintaining a safe and respectful learning environment for all students.  Parents fulfill their role when they:
Show an active interest in their child's school work and progress
Communicate regularly with the school by telephone, student agenda or in person
Help their child be neat, appropriately dressed, and prepared for school
Ensure that their child attends school regularly and on time
Promptly report to the school their child's absence or late arrival
Show that they are familiar with the Code of Conduct
Encourage and assist their child in following the Rules of Behaviour
Assist school staff in dealing with disciplinary issues involving their child
TEACHERS AND OTHER SCHOOL STAFF: Under the leadership of their principals, teachers and other school staff members maintain order in the school and are expected to hold everyone to the highest standard of respectful and responsible behaviour.  As role models, teachers and school staff uphold these high standards when they:
Help students work to their full potential and develop their sense of self-worth
Empower students to be positive leaders in their classroom, school, and community
Maintain consistent standards of behaviour of all students
Demonstrate respect for all students, staff, parents, volunteers, and the members of the school community
Prepare students for the full responsibilities of citizenship
STUDENTS: Students are to be treated with respect and dignity.  In return, they must demonstrate respect for themselves, for others, and for the responsibilities of citizenship through acceptable behaviour.  Respect and responsibility are demonstrated when a student:
Comes to school prepared, on time, and ready to learn
Shows respect for him/herself, for others, and for those in authority
Refrains from bringing anything to school that may compromise the safety of others
Follows the established rules and takes responsibility for his or her own actions
Strategies for Encouraging Positive Behaviour
Allan A. Greenleaf School has embraced The Virtues Project.  This process focuses student and adult attention on simple ways to create a culture of Character. Each month of the year we will focus on a different Virtue.  In addition to our Virtues program and the Virtue Vouchers used to recognize positive virtues, we offer opportunities for students to demonstrate their understanding of these virtues. We aim to offer many opportunities for students to connect with staff in a variety of extra-curricular activities and leadership opportunities. We continually look for opportunities to engage our students in pro-social activities in the school and in the wider community.
Progressive Discipline Plan, Modified to Student Need and Developmental Age
Progressive Discipline is used in all of our classes and in the office.  The plans will differ slightly from division to division and class to class to reflect the changing developmental stage of the children. This plan is a general guide. Verbal Warning, Conference with teachers, Loss of Privilege, Nutrition Break Detention, Parent Communication (phone),  Parent Meeting, Office Referral, Temporary Withdrawal, Suspension.
Mitigating circumstances must be considered with any office discipline by the Principal or Vice-Principal.  Extreme behaviour may not follow progressive discipline but move immediately to a more serious level of discipline.  In all cases, discipline is at the discretion of the Principal/Vice-Principal in accordance with the Board of Education and Ministry of Education Policy.
Updated on Monday, August 06, 2018.